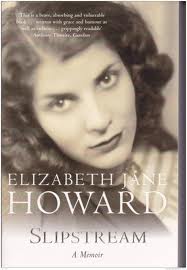 I don't know what we were talking about, but some part of our conversation spurred a friend to lend me Elizabeth Jane Howard's autobiography, Slipstream. That was on Sunday afternoon – I've just finished it. You could say I devoured it; you know when you have other things to do but you just can't wait to get back to your book.
It was very moving and rather sad; a long life, many books, but not a lot of love and happiness. She was married three times – her first husband was Peter Scott, the son of Scott of the Antarctic, a war hero and wild-life artist; her third was the writer Kingsley Amis – but she described herself as a "bolter", and it was usually with other people's husbands.
She didn't flinch from revealing her many, many mistakes – her failures to love, to communicate, to discriminate, to stand up for herself – and  the way she repeated them again and again ("A slow learner"was another self-description).What was so moving was her painful struggle to actually learn and change. She credits therapy and especially a women's group, late in her life, with that, and she was able to reconcile with her daughter. She published her last book last year. She was 90.
When I turned to the internet – as you do – to find out a little more about her, I found out that she's just died. There's an obituary here: http://www.theguardian.com/books/2014/jan/02/elizabeth-jane-howard-dies-90