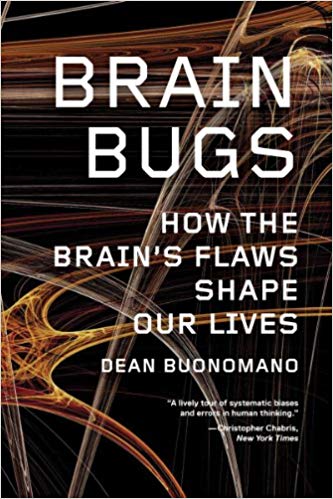 I took all sorts of books with me on a recent road trip to South Australia – you never know what you'll feel like reading after a long day in the car. And I added a good haul from Op Shops along the way, too. In a week, I managed to get through Dean Buonomano's Brain Bugs, which was good and very readable popular science, plus a quartet of fiction titles; Instructions for a Heatwave by Maggie O'Farrell, Transcription and Life After Life by Kate Atkinson and The Corinthian by Georgette Heyer. I'd never read any of them before. Well, I can't remember reading the Heyer; after all, my Regency Romance days were my schoolgirl mid 1970's.
Brain Bugs was an informative, fascinating but in the end, depressing book to read because it demonstrated how the brain that evolved for human animals thousands of years ago is hopelessly unsuited for the world we live in in. Sadly, the 'flaws' in our thinking that Buonomano exposes explain presidents like Trump and Erdogan, they explain our refugee policy, they explain climate change, they explain Brexit…
…our brain bugs range from the innocuous to those that have dramatic effects on our lives. The associative architecture of the brain contributes to false memories, and the ease with which politicians and companies manipulate our behavior and beliefs. Our feeble numerical skills and distorted sense of time contribute to our propensity to make ill-advised personal financial decisions, and to poor health and environmental policies. Our innate propensity to fear those different from us clouds our judgement and influences not only who we vote for but whether we go to war. Our seemingly inherent predisposition to engage in supernatural beliefs often overrides the more rationally inclined parts of the brain, sometimes with tragic results.
Brain Bugs: How the Brain's Flaws Shape Our Lives by Dean Buonomano, Norton NY, 2011
Instructions for a Heatwave was my second Maggie O'Farrell book this month. Set during the UK drought of 1976 (thus the title), it shows what happens when Robert (husband to Gretta, father to adult children Aoife, Monica and Michael Francis) walks out one morning to get a paper and doesn't return. What does happen? The family gathers, and secrets are revealed, lies exposed, sibling relationships and marriages unravel and knit together again. I'd describe it as a solid, well-made family drama, with engaging and believable characters, told with humour and a great eye for detail. I read it quickly – but it didn't pack the emotional punch of The Vanishing Act of Esme Lennox which was really quite devastating. I hadn't read any of O'Farrell's fiction before, only her memoir – I Am, I Am, I Am – which was thought-provoking and moving.