After Plant Dreaming Deep was published in 1968, Sarton – in her late middle age – found herself not only a best-selling writer, but a kind of model or mentor for many women. Probably white, middle-class and well-educated American women, but nevertheless, what inspired her readers was the unabashed emphasis on her own life. As – primarily – a creator. As a poet and novelist (that work was always bubbling away in the background); as a woman living alone and making her own life to suit herself. I imagine a chorus of wistful sighs from women readers with husbands and children; I wish, I wish, I wish….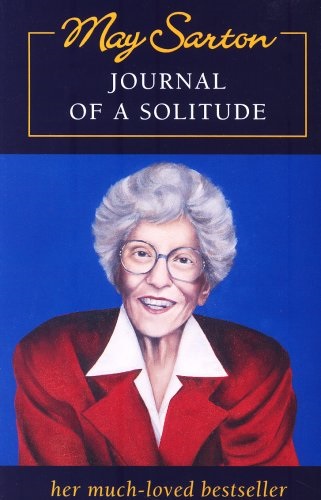 Sartons's next book about her house and life in Nelson is also comfort reading, but of a different kind. In Journal of a Solitude (1973), there is still the beauty, the garden and the landscape, the old house, the flowers, the friends. But there is more honesty, and it's comforting because of that. This is no perfect Country Style, House and Garden life. It's often unhappy and lonely and frustrating. Perfect days of creative work and contentment and contemplation of beauty are followed by wretched times of frustration and pain. Sarton feels deeply; she loves, she feels empathy and communion and joy in company with others but she also finds it hard to tamp down her irritations and anger and often blows up in rage. I would say May Sarton sometimes just finds it hard being May Sarton (and a quick look online at her biography tells me that other people found her hard, too).
I woke in tears this morning. I wonder whether it is possible at nearly sixty to change oneself radically. Can I learn to control resentment and hostility, the ambivalence, born somewhere far below the conscious level? If I cannot, I shall lose the person I love. There is nothing to be done but go ahead with life moment by moment and hour by hour – put out birdseed, tidy the rooms , try to create order and peace around me even if I cannot achieve it inside me.
It seems strange, now in 2022, when the confessional, warts'n'all memoir is a flourishing genre – when writers at the top of their game like Helen Garner will publish such devastatingly honest accounts of their messy lives – to read that Sarton's achievement in Journal of  a Solitude was a Big New Thing.
I quote from Carolyn Heilbrun's Writing a Woman's Life. She writes that despite the great success of Plant Dreaming Deep, Sarton was eventually dismayed as she:
…came to realize that none of the anger, passionate struggle, or despair of her life was revealed in the book. She had not intentionally concealed her pain: she had written in the old genre of female autobiography, which tends to find beauty even in pain and to transform rage into spiritual acceptance. Later, reading her idealized life in the hopeful eyes of those who saw her as an exemplar, she realized that in ignoring the rage and pain, she had unintentionally been less than honest…In her next book, Journal of a Solitude, she deliberately set out to recount the pain of the years covered by Plant Dreaming Deep. Thus the publication of Journal of a Solitude in 1973 may be acknowledged as the watershed in women's autobiography.
I call it the watershed not because honest autobiographies had not been written before that day, but because Sarton deliberately retold the record of her anger. And above all other prohibitions, what had been forbidden to women is anger, together with the open admission of the desire for power and control over their own lives.
And a final note; what a shocker of a cover.
It is so disturbing that I had to keep turning the book over so I wouldn't have to look.  I'm going to have to buy myself another edition!