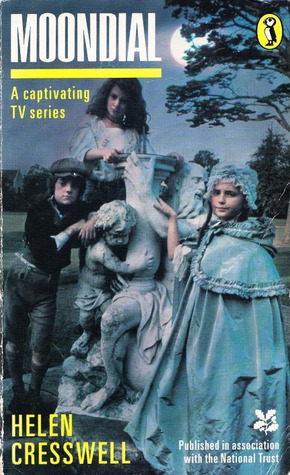 I have just finished my book. Yay! Well, 'finished' with finger quotes would be more accurate. I'm at the finicky polishing stage, which makes me feel cross-eyed (and cross) at the end of the day. It's word by word reading with a red pen. Off to my editor next Wednesday.
I didn't have as long between finishing the final draft and starting the polishing as I like – I find it's useful to put the whole thing away for a couple of weeks, not think about it, and do a spot of house painting or some major garden works – but in the couple of days I allowed myself, I read this little book. It was an Op Shop score, and now I'm on the prowl for more Helen Cresswell. I should be able to find some – she wrote more than 100 children's books, and was best known for comedy… and the supernatural. So sheer serendipity… like my book, Moondial features ghostly visitors and strange happenings in a big old house.
Minty (Araminta) goes to stay with her Aunt Mary, who lives opposite a historic property, Belton House.
Even before she came to Belton, Minty Cane knew she was a witch, or something very like it. She had known since she was tiny, for instance, about the pocket of cold air on the landing of the back stairs. (Though she could not have known that a man had hanged himself there). She knew, too, that she shared her bedroom. She had woken at night to see shadowy presences gliding across the floor. She had never spoken to them, merely watched, sensing that  they were on some silent business of their own…
(Note: spoilers ahead!)
And when she first sees the elaborate sundial in the garden at Belton House, she knows it's the key to a haunting mystery. Sundial? Moondial… Two children from the past need her help to escape from endless torment. With Tom, the 19th century kitchen boy, she defeats the forces of evil (the horribly creepy time-traveller Miss Raven) to rescue Sarah, a child from an even earlier era.
This is a beautifully written time-slip mystery, with a couple of marvellous set-pieces (the masked village children taunting poor little Sarah in the moonlight was almost too much). Dual timelines – there's a pressing real-world, present-day situation for Minty as well – are threaded through the story to end up full circle in a satisfying but not quite neatly tied-up finale.