"Feeling hot, hot, hot!"
This heatwave has really caused a bit of a meltdown in my reading habits. I took a vow a few years ago not to confine my reading to –   well, to re-reading. I was especially severe on myself for re-reading books that aren't actually all that wonderful in the first place. Re-reading Jane Austen, George Eliot and even Barbara Pym was acceptable, but not my favourite forgotten best-sellers of the 1920's and '30s like Kathleen Norris, nor those children's novels that I'd read to death back when I was actually a child. Like the Anne of Green Gables books.
Well, this week, in the heat, I've been on a L.M.Montgomery binge. Not the Annes, though; I'm saving those. I started on the three Emily books – Emily of New Moon, Emily Climbs and Emily's Quest. Then Jane of Lantern Hill and The Blue Castle. It's going to be 41 degrees where I live today, and I have A Tangled Web at the ready.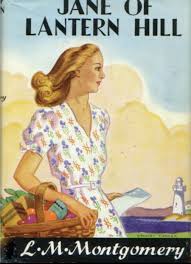 I have learned to skip and skim through the long passages of purple prose. These are mostly descriptions of the landscape and the weather and the seasons. Some of them are actually quite beautiful and I imagine were genuine responses to the world around her. I have been to Prince Edward Island; it's a gorgeous as she says it is. And on last year's travels in Canada in spring  it hit me like a groundhog to the head – this is why people in the northern hemisphere get so excited about spring. It was miraculous. But too much is too much, and Montgomery, when really worked up, lets loose with words like 'amethystine'. But her real skill, and the thing that has kept me reading on these hot days, is her understanding of neglected, misunderstood, ignored, unloved children.  And of women whose lives have been starved and stilted by righteous, tyrannical families with their notions of duty, conformity and obligation.
Little Emily's mother married against her tribe's wishes – and so was shunned. With her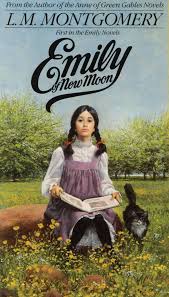 mother's and then her father's deaths, Emily has to be taken back into the family fold. There's  a happy ending – Emily wins the love of her adopted family, and even her stern Aunt Elizabeth comes to show affection and approval.  But there are some tremendous struggles along the way. Montgomery describes so well the feelings of a young woman whose elders think they own her. That means having the right to read letters, diaries, private writings – know her thoughts – direct her energies and affections. Emily, of course (she is our heroine after all) rebels and not only gets her man, childhood sweetheart Teddy, but a college education and a career as a writer. The childhood scenes are the ones that I find most real. They seem uncannily true,  and even on repeated reading – or am I just a big softie? – moving.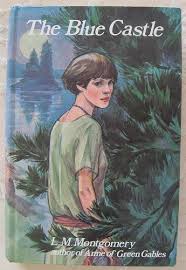 The Blue Castle has an adult heroine, the plain and repressed spinster Valancy Stirling. She sees herself as a failure in every way – but the most galling is her failure to attract a man. She lives at home with her cousin and mother, hedged in by a lifetime's unwritten rules and too scared to rebel. As anyone who knows their romances can see, she's ripe for a make-over.
It comes when she gets a diagnosis of terminal heart disease. Why not live before she dies? After a series of small rebellions – even those make her family think she's gone mad – she leaves home to nurse the dying Cissy. She's an old schoolmate and daughter of the local reprobate and drunk. Cissy's had an illegitimate child and that, plus her wicked dad, put her well and truly beyond the pale.
But Valancy loves her, loves looking after her and even comes to feel great affections and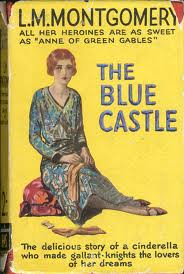 understanding for the naughty old man. She makes friends, then falls in love with mystery man Barney Snaith and – with nothing to lose – asks him to marry her. Her life from then on is pure, improbable and satisfying romantic fiction. The plain heroine blossoms into a happy, sensual woman. She and her husband are lovers and pals – they're outsiders, living on a beautiful island in a lake, away from oppressive community obligations.
They've got enough money for a simple and happy life; when it's revealed the mystery man Barney is the estranged son of a patent medicine millionaire, they've got more than enough. As novel ends, after a minor hitch – it turns out the diagnosis was mistaken (and she's going to live after all!) – they're planning to travel the world
All good fun and famously accidentally plagiarised by Colleen McCullough for her The Ladies of Missolonghi – but it's the first chapters, which show her hideously humdrum life as an unmarried daughter living at home with  a monster mother, which are the real meat in the novel. The author knew about the lives of unwanted and unloved children from personal experience;  I can't help thinking that she knew about the death-in-life of the ageing spinster as well.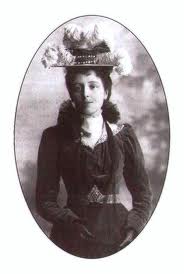 Her early days were very like those of her child heroines. Her mother died when she was 21 months old, her father left for the North West Territories and she was brought up by her harsh, unloving grandparents. She worked as a schoolteacher and began to have stories published; she married, when she was 37, Ewen McDonald. He was a minister. They had three sons, one of whom was stillborn. I'd love to think that the author had her own happy ending, but sadly she didn't. She suffered from depression  and perhaps it was no wonder, for she had to cope with motherhood, the demands of her husband's career and church life, her writing life and her husband's mental illness – he was prey to religious melancholia. She nursed him for decades. She died, in 1942. From a note she left, it seems possible she committed suicide. So she never found her Blue Castle.