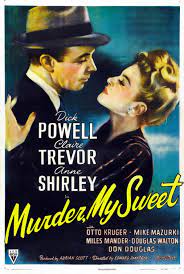 Last night we watched a DVD. Remember them? It was a 1944 movie called Murder My Sweet, based on Raymond Chandler's Farewell My Lovely. It was the first film outing for Chandler's famous PI Phillip Marlowe; he was played not by the more familiar Humphrey Bogart but by a leading man from the 1930's called Dick Powell. Powell made his name in musicals and light comedies, and apparently he had to fight to get the role. And he was good – though different to Bogart – more human, a bit less cynical, a lot less charismatic. It's considered by movie buffs one of the original American films noir.
The story? A cash-strapped middle-aged LA private eye (Marlowe) is hired by a gigantic ex-con called Moose Molloy to find his girlfriend, Velma. He hasn't seen Velma for eight years, since he went down. That's the set-up. There's a stolen jade necklace, a blow to the head, a murder, a rich old man married to a sexy young wife, a fake therapist who's blackmailing his clients, a hostile chief of police, a lot of shadowy camera work, another blow to the head, a drug trip, the rich old man's lovely daughter, some great clothes, another blow to the head and quite a few murders.
And after it finished, we were both left wondering…who did what? Why? When I went to bed, I lay awake, trying to work it out. I couldn't. I probably needed to be fully awake, with a piece of paper and a pen. I read somewhere that Chandler said when he didn't know what to do, he just had someone enter the room with a gun. It was a bit like that. But I did enjoy the ride.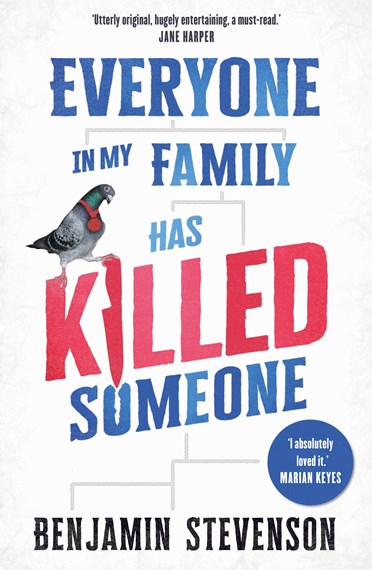 Which is sort of how I felt with Benjamin Stevenson's Everyone In My Family Has Killed Someone. A fast and furious murder mystery, with the complicated and criminal (some of them, anyway) Cunningham family all gathered together at a snowed-in ski resort. Skeletons just tumble out of cupboards – bodies pile up – the characters peel back more layers than a mille-feuille pastry – and towards the end I totally lost the plot but such was the forward momentum that I just kept reading, fast, until I reached the end. Phew. I decided not to go back (with pen and paper)…because what would be the point?
PS.
This book has got one of the best openings ever:
Everyone in my family has killed someone. Some of us, the high achievers, have killed more than once.