What I really want to talk about is the short story form itself, and these are good stories for that purpose: simple, clear, elemental… For the young writer, reading the Russian stories of this period is akin to a young composer studying Bach. All of the bedrock principles are on display. The stories are simple but moving. We care about what happens in them. They were written to challenge and antagonize and outrage. And in a complicated way, to console.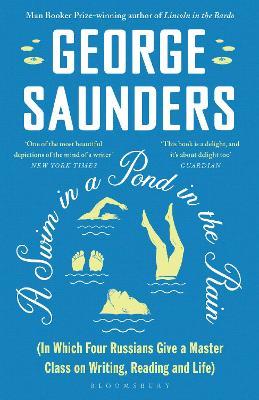 Can a book be light and deep at the same time? This one is. It's also beautiful, generous, practical, philosophical, enlightening, funny and serious. I could use a lot more adjectives (and perhaps I will, later on).
Saunders has been teaching for over twenty years in Syracuse University's graduate MFA creative writing program, and A Swim in a Pond in the Rain comes out of his workshops there. You can imagine you are in his class as he takes you by the metaphorical hand and walks you through seven Russian short stories. Three are by Chekhov, two by Tolstoy and one each by Turgenev and Gogol, and in the normal run of my reading life, I would never have read any of them. Scary, gloomy, deathly serious Russians! But guided by Saunders – and for the first story, In the Cart by Chekhov, he actually takes it one page at a time – I've waded in.  No, jumped in – because with a guide like Saunders, I feel safe. He's not going to let me feel overwhelmed by my own ignorance, or fail because because it's all too technical and demanding. Saunders is such a kind and companionable a teacher that I found myself relishing the technical explanations and challenges. I found that going deeper into the stories was not like dissection (academic, and you end up with a corpse not a living thing) but more like discovery. Exciting.
I've borrowed this from the library, but I think it's one I'm going to have to own.