I had planned – one of those New Year's resolutions – that this year I would do a monthly roundup of everything I'd been reading. Obviously, I haven't. I haven't even done the bare minimum once-a-week book review that I also resolved upon. But at least I did write most of the titles down. There there were a few that got away, and I deliberately didn't include the books (mostly novels) I put down after a few pages or a few chapters, nor the ones I only skimmed and skipped.
Maybe I should have noted them too.
A friend and I were talking about puzzles. You know; at our age, keeping the brain active with puzzles is supposed to ward off impending dementia. We're both into Wordle and he also does a sudoko, which really gives his little grey cells a daily workout. He suggested I should try the sudoko too. I said I can't do anything with numbers; it makes my head hurt. "I was always crap at maths," I added. I laughed.
And he pointed out something interesting. While people have no shame about saying they're hopeless at maths (in fact, like me they will laugh merrily), reading is different. Nothing to joke about. Or rather, people might joke about the fact that they never read books (strangely, I met a few of those – quite loud and proud about it, too –  while working in a bookshop) they are less likely to broadcast the fact if they can't read. Illiteracy carries a real stigma. Problems with self-esteem and confidence proliferate along with the practical difficulties.
My friend, like me, loves to read. It's an unusual week when I only get through one book; more often it is two or even three. On holidays, it can be a book a day. But he is more likely to read a book a month. It's because, he told me, he's a slow reader. Not only because he likes to make sure he fully understands what he reads, but because he reads every word. He's always been a bit shocked about the way I skip and skim. Once he asked me what my reaction would be if a person read one of my books in that way (I wouldn't care, was the answer). The fact is, he finds reading a rewarding but not easy activity.
I asked if he'd had trouble learning to read.  Not at all, was the answer. He  just never got fast. On the other hand, initially I had a lot of trouble. Failed at John and Betty, remedial reading, kept back in preps. Yet once I got the hang of it, I became a voracious breakneck-speed bookworm, and still am. A puzzle.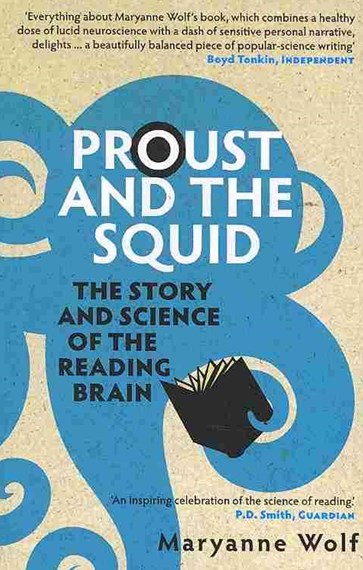 One of the books that I skip-read and didn't include in my list was Proust and the Squid: The Story and Science of the Reading Brain by Maryanne Wolf. She's a cognitive neuroscientist and scholar of reading. A library book I chose for the title (Proust! Plus Squid! plus, the words 'brain' and 'science', which are catnip to me). It was fascinating but hard work and so, running out of puff, I skimmed and then gave up. However skimming gave me a few lasting insights which I was able to bring to the conversation with my friend. The major one is that reading is not easy. Understanding written symbols is a huge and complex task. Our brains were not set up for this particular activity at all; it's way, way beyond the range of our original abilities. We taught our brains to read only a few thousand years ago – not a long time in the span of human evolution and literacy has changed the way our brains are configured. They are still evolving. (As to where digital culture is taking our brains – that's another question…) Wolf's discussion of dyslexia led me to another insight. The bare bones of reading is decoding. The other part is fluency. So you can be a competent or even excellent decoder, yet still read slowly – word by word – like my friend.
I gave it a crack. I made myself read each and every word. Each and, the, if, so, he, she, it... Reading like this would permanently destroy my pleasure in fiction, that's for sure. It made me realise that my usual reading experience is sometimes too fast  – so that I don't always take in all of what I've read. Not that it matters; there's an addictive quality to  breakneck reading and I love being pulled along at speed by a real page-turner. I finished Richard Osman's The Man Who Died Twice in a day! More often, though, it's a mix of darting ahead and hovering, often skimming a paragraph or a sentence, sometimes going back. If the writing is beautiful – as it is, for instance, in Michael Ondatje's Warlight or Emily St John Mandel's Sea of Tranquility – I have to force myself to slow down and pay attention. Or (better) read the book again.
It is not often that I reflect on the act of reading. After fifty six years of practice and with many hundreds (thousands?) of books and articles read, it seems…well, natural. My conversation and the not-really-read Proust and the Squid show that that's not the case at all.
FEBRUARY
Millions Like Us Virginia Nicholson
The Thursday Murder Club Richard Osman
Real Estate Deborah Levy
Mothers, Fathers and Others Siri Hustvedt
True Stories Helen Garner
MARCH
Once Upon a River  Diane Setterfield
Burning Questions  Margaret Atwood
Orwell's Roses Rebecca Solnit
Linnets and Valerians Elizabeth Goudge
Journal of a Solitude,  Plant Dreaming Deep,  House By The Sea  May Sarton
APRIL
Writing a Woman's Life Carolyn Heilbrun
May Sarton Margot Peters
Stranger Care Sarah Sentilles
With the End in Mind Kathryn Mannix
At Seventy May Sarton
Moondial Helen Cresswell
MAY
Warlight Michael Ondatje
40,000 Weeks Oliver Burkeman
I Didn't Do the Thing Today Madeleine Dore
Novelista Claire Askew
Writing with Quiet Hands Paula Munier
The Friend Sigrid Nunez
The Writer Laid Bare Lee Kofman
The Violet Hour Katie Roiphe
Sempre Susan Sigrid Nunez
Piranesi Susannah Clarke
What Are You Going Through Sigrid Nunez
Breath James Nestor
JUNE
Second Place Rachel Cusk
Canticle Creek Adrian Hyland
Love Stories Trent Dalton
New and Selected Poems Vol 2 Mary Oliver
Telltale Carmel Bird
Bedtime Story Chloe Hooper
The Way It Is Now Gary Disher
Give Unto Others Donna Leon
A Gentleman in Moscow Amor Towle
The Other Side of the Bridge Mary Lawson
Empire of Pain: The Secret History of the Sackler Family Patrick Radden Keefe
JULY
The Golden Egg, Falling in Love, The Waters of Eternal Youth, The Temptation of Forgiveness Donna Leon
Black Cock's Feather Maurice Walsh
A Woman Named Smith Marie Conway Oemler
Sea of Tranquility Emily St John Mandel
The Man Who Died Twice Richard Osman