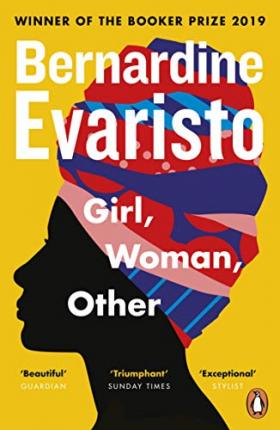 Book Group, for the past couple of years, has been a bit of a bust. Evening meetings via Zoom instead of in a member's home, with the hostess providing (it's the rules) red and white wine, biscuits and cheeses – three kinds – and always cake.  When restrictions loosened, we had some late afternoon gatherings in the Botanical Gardens, with BYO drinks and snacks; pleasant but requiring mosquito repellent. I didn't even start a few of the books, and bailed out on some of the others as too heavy, too hard, too depressing. My reading habits have often contracted to "comfort setting" during the pandemic.
But it's a new year. Girl, Woman, Other was our first for 2022 Book Group, and I wonder if I can go on as I started – off the blocks and dashing away in an unprecedented burst of speedy reading. It helped that I loved this book.
I did struggle, initially. I'm boringly conventional when it comes to writing and I was annoyed by the lack of capitals to start sentences, and full stops to end them. The language and tone seemed flat, awkward, full of cliches and jargon.
Amma then spent decades on the fringe, a renegade lobbing hand grenades at the establishment that excluded her
       until the mainstream began to absorb what was once radical and she found herself hopeful of joining it
       which only happened when the first female artistic director assumed the helm of the National three years ago
Until I realised how cleverly she's using their voices, their thoughts, their speech patterns moulded by birthplace, family, social class, school, culture, polemic, philosophy.
And how often – kindly, even lovingly – Evaristo is  taking the piss!
Then I settled, fascinated, into the way Evaristo shape-shifts into each character's life. As a white, middle-class (privileged, naturally!) Australian woman, I felt I was reading intimately into other worlds, other lives. Black British lives.
Four chapters, twelve women. Their stories range right across Britain, across social class, education and age, from the late 19th to the 21st century. All are Black or mixed-race.
And what a cast and crew they are.
My favourites? You're all my favourites…
Here are the characters in the first chapter:
Amma is a high-flying playwright, on the cusp of fame with her new play The Last Amazon of Dahomey. It's the opening night; she's nervy. Her past is radical, grungy, anti-establishment; has she sold out? Her gorgeous teenage daughter Yazz, conceived via a friend's donated sperm (Amma's a non-monogamous lesbian) is there too, to support her mother along with her 'squad', the Unfuckwithables. She's also flying high in her first year at university. Yazz is smart, beautiful, and 'woke' to the point of arrogance; the feminist battles of her mother's generation are old hat to her and her friends. Dominique, Amma's old friend and Yazz's godmother, completes the trio. She's come from America to support Amma. She's glamorous, fierce, smart, tough, successful – but in her past, there were lost years in an abusive relationship with a separatist, radical feminist, African-American lesbian in Freedomia, a wimmin's commune.
These stories –  and there are three more chapters, nine more women/people) are lively, funny (laugh out loud funny – Evaristo does love to have a go at pompous, self-righteousness), moving, tender, provocative, political, gut-wrenching, sexy… Full of messy, intimate, unedifying, unfair, problematic, complicated, confusing life. Or just – maybe – life.
My CAE notes point out the issues. So many!  Rape, sexual abuse, consent, domestic violence, sexism, racism, feminism, patriarchy, ante-natal depression, intersectional exclusion, queerness, non-binary gender, homo- and trans-phobia, the concept of 'othering'.
Quite an education.
I'm looking forward to wine, cheese and cake, good company and a long and passionate discussion about this first book of 2022.