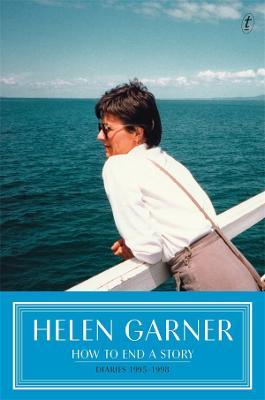 I have just devoured Helen Garner's How To End a Story. Read it in a day and a night. Couldn't put it down. And luckily I didn't have to; I was on holiday.
Garner's diaries from 1995-1998 detail the disintegration of her marriage. She's living in Sydney with her third husband, also a writer. He's ambitious, obsessed, completely taken up with the completion of his new novel; Garner fits her life and work around his writing.
What his novel cost. No piano. No holidays. No weekends. No outings. We sold my car. No river, no sea, no garden. No dog. No outdoor clothesline. No children. No noise. No fresh air. No sunlight. No wide-open windows.  He has never understood what Peter Craven calls 'the deep moral value of fun.'
He's also lying to her about his relationship with an alluring younger painter. When the truth is finally revealed – does he deliberately leave those letters lying around? of course he does! – so is his cowardice and deceit. How to end a story.
These diaries make distressing reading at times.  Love dying and love lost are, simply, sad. But Garner is rightfully angry.  She realises clearly what she wants (see above!) and what she isn't getting. Her strength, gallows humour and resilience balance the self-doubt and despair. And apart from her riveting observations on relationships and her lacerating self-interrogation, Garner always has a beautiful eye for detail.  Her delight in the sensual world reminds me of the French writer Colette.
Outside my window at St Neot's white cockatoos are eating berries off the huge tree: big, muscly birds with jaunty postures, crunching the fruits that they thrust into their beaks with a deft movement of one foot. Their activity sounds like the first drops of heavy rain. The air is cool, stirring the curtains.
As many others have written, in these diaries Helen Garner seems to have found the  perfect form for her art.