Want to be entertained? Sit on the edge of your seat with suspense and tension? Squeal with joy? Tear up with emotion? See some incredible bodies and some amazing humans? Simply feel really, really happy? OK, watch reality TV. No, not The Bachelor. The Paralympics.
The competition wasn't even on our radar, but one evening in changing channels we stumbled across the wheelchair rugby and were hooked. For ten days, we looked forward to the evening and our nightly fix.
The Tokyo Paralympics ended on Sunday evening, and we even sat up and watched the closing ceremony. Those zany Japanese! No cherry-blossoms, no Zen aesthetics; there were crazy-colourful dancers and giant puppets and pop musicians and lights and magical technology – with an underlying message about accepting the diversity of our human family. Despite so many old men in dark suits handing out the gongs, this celebration was youthful and full of joy. Swimmer Ellie Cole carried out our flag, but sadly, the team could not attend.
I say 'sadly', and I mean sad for us – because after ten days we'd got to have our favourites among the athletes. Madi de Rozario, Isis Holt, Tiffany Thomas-Kane, Dylan Allcott, Ryley Batt, Angela Ballard, Isabella Vincent…what the hell, why choose? They're all my favourites! In this, I can echo Kurt Fearnley, past Paralympian and – with Johanna Griggs – commentator for Channel 7's coverage. He was such an unabashed enthusiast, brimming over with sympathetic joy like a proud parent; he just wanted to give everyone a hug. He and Johanna Griggs were perfect guides for the  newbie viewer, with insights into the broader story of the Paralympic movement as well as profiles and backstories of individual athletes.
You could feel the love.
There were so many memorable moments. Our female swimmers slithering over their lane markers to embrace at the finish like a school of lovely mermaids. Madi de Rozario, so fierce and strong, rocketing along to victory. The teary post-competition interview when tennis star Dylan Allcott said, holding his gold medal, that now he felt loved, he felt worthy.
Many of the Paralympian reflected on their journeys. Allcott spoke of how as a fat little disabled kid with no friends, last picked for everything, he was astonished to meet a group of disabled male athletes for the first time. They were having a beer with friends! They had jobs, they drove cars, they had wives or girlfriends, they had kids! All of these things, he'd thought, were not for him but the Paralympian movement changed his life.
I am sure many of the athletes could say the same thing. But as one of the sponsor's slogans put it, you don't have to be amazing to start, but you have to start to be amazing. And all of the Paralympians are amazing. They've had the courage and determination to somehow start the journey. Now, in elite competition in Tokyo, such grace and humility, such gratitude and joy.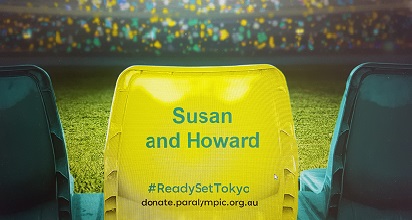 And it's all real; this is reality TV, but in a good way. That's why we got hooked on the Paralympics, have become supporters of the movement and feel like we've been enriched and educated and inspired by these amazing human beings.
Bizarrely for me – so not a sports person – I am already thinking, Bring on Paris 2024!