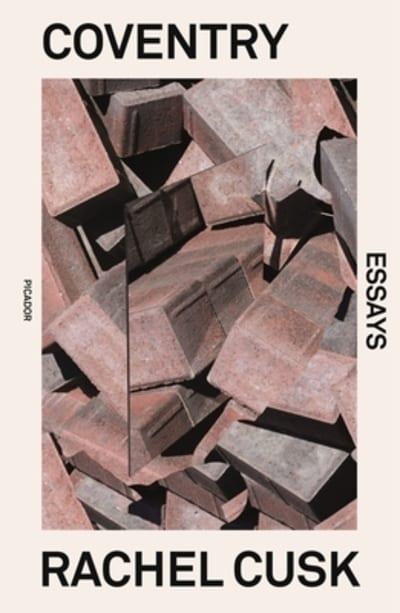 I'm either reading less fiction, or more non-fiction – I'm not sure. I haven't been able to get my teeth into any novels lately, and at tomorrow's Book Group Zoom meeting I am going to have to confess, yet again, that I have not read the book.
But I have been reading. Lately, essays and memoirs: Feel Free by Zadie Smith, More Than a Woman by Caitlin Moran, Funny Weather: Art in an Emergency by Olivia Laing and now Coventry by Rachel Cusk.
This was my introduction to Cusk's writing, although I'd been aware of her fiction for a few years and her Outline trilogy has been strongly recommended to me (as in, "Susan, you'd love Rachel Cusk!"). I'm not so sure that 'love' is the right word; I don't feel an incipient girl crush of the kind I have for Rebecca Solnit or, more recently, Olivia Laing.  Coventry reveals a detached and occasionally rather spiky sensibility and indeed the first essay I read, Driving as Metaphor, seemed deliberately off-putting.
The village where I live is on the coast road, and there is much talk among the residents about how to control the speed at which people drive through it. The slowness that frustrates and impedes us when we are trying to drive on the roads outside our villages becomes immaterial from our perspective as homeowners; from this angle, it appears that  people around here drive not too slowly but too fast. This might seems merely a good example of the corrosion of truth by point of view. Equally, a person travelling by bicycle feels an antipathy towards cars, and yet once inside a car can immediately become irritated by cyclists, and as a pedestrian could dislike them both, sometimes all in the course of a single day.
I persisted through the traffic flow, and finally I 'got it', although the 'it' I got is maybe not what Cusk intended. I thought, This is what it's like to pay attention and report back with as much clarity as you can; this is taking a small slice of existence, examining it minutely and then seeing where it leads. This is what thinking is like. Which is hopefully on to broader and unexpected perspectives.
After I read a couple of articles and interviews online, I realised that the other aspect of her writing is honesty; she's not concerned about seeming likeable or relateable. Her commitment to honesty in an earlier memoir, Aftermath, where she wrote about her marriage breakdown, apparently caused such media and personal hostility that the experience left her, for a time, broken. In an interview in The Guardian, she said, "Without wishing to sound melodramatic, it was creative death after Aftermath. That was the end. I was heading into total silence – an interesting place to find yourself when you are quite developed as an artist." www.theguardian.com/books/2014/aug/24/rachel-cusk-interview-aftermath-outline
The essays in Coventry are divided between memoir and literary/artistic/ cultural criticism and for my money the first category is the most compelling. By the time I'd read Cusk on traffic, civility, home-making, teenagers and fractured relationships with spouses and parents I did not want her for my new best friend, but I certainly wanted to read more and more of her cool, intelligent and unsparing commentary.