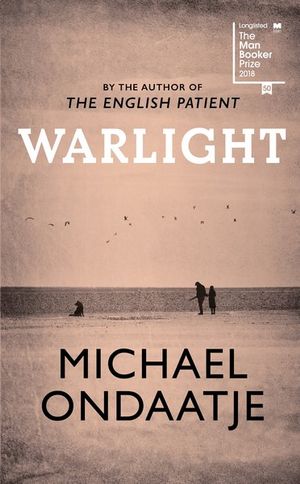 In 1945 our parents went away and left us in the care of two men who may have been criminals…
I read the whole of Warlight over one day on a visit to Melbourne, on V-line country trains and on city trams, in a shopping centre food courts and a little cafe and my practitioner's waiting room, sunk deep into the book but with my experience oddly enhanced by what was going on around me.
I can't remember when I've been sunk so deeply into a novel. Usually I'll finish one book and go on to the next, but so far I haven't been able to start any more adult fiction. I could describe Warlight as my perfect book. Note 'my' not 'the'. I read a review by Andrew Motion in The Guardian (16/6/18) in which he basically said that it wasn't the book he thought Ondaatje should have written. Too imprecise, too slow, too "shrouded in mystery". Its beauty, for this reader, was in just those things. The pace, the indirection, the mystery didn't detract from the ripping yarn of a 14-year old innocent caught up in a post-war shadow life he can't comprehend or explain. Another review, again in The Guardian (Alex Preston 5/6/18) described it this way: "It's as if GW Sebald wrote a Bond novel".
Please note: there are spoilers ahead!
Effectively abandoned by his parents, the narrator Nathaniel and his sister Rachel are cared for by an enigmatic man they call The Moth and his colleague the Darter. Through these two, a whole cast of eccentric and slightly shady characters, men and women, become involved in Nathaniel's life. At school by day (though less and less frequently), he develops a compelling nocturnal life. Moonlit, candle-lit, shadowy, dingy, dark – adventures and escapades follow as he works in kitchens and banqueting halls of grand hotels, smuggles greyhounds by barge, discovers passion and sensuality with the daring and vulnerable Agnes in empty flats and houses. But then Nathaniel and Rachel discover that their mother Rose has not gone to the Far East, as they supposed, to join their father. Her double life – she's a spy –  is gradually revealed and so their life with The Moth and The Darter takes on a new and even darker perspective, culminating in a terrifying attack on the two children.
This is, after all, post-war Europe. Peace didn't magically break out; there's an underworld where hatred, revenge and reprisals fester on. Partisans, communists, fascists? Right or wrong? Everything is murky, including Rose's role. As an adult, after his mother's death, Nathaniel continues to try to piece together her story. And his own.
As ever, Ondaatje's writing is beautiful, luminous, poetic and arresting, full of a deep understanding of the sheer mysteriousness of being a person. Of knowing, or trying to know, another person. Of trying to enter or understand a life other than your own.
And wonderful characters. Olive Lawrence, ethnographer, meteorologist and – yes – spy, takes Nathaniel and Agnes walking at night. The air is full of the sound of mating crickets, loud and insistent. Olive says,
Their cries seem to fall on you from above, don't they? It feels like an important night for them. Remember that. Your own story is just one, and perhaps not the important one. The self is not the principal thing.
Warlight by Michael Ondaatje, Jonathan Cape, 2018.