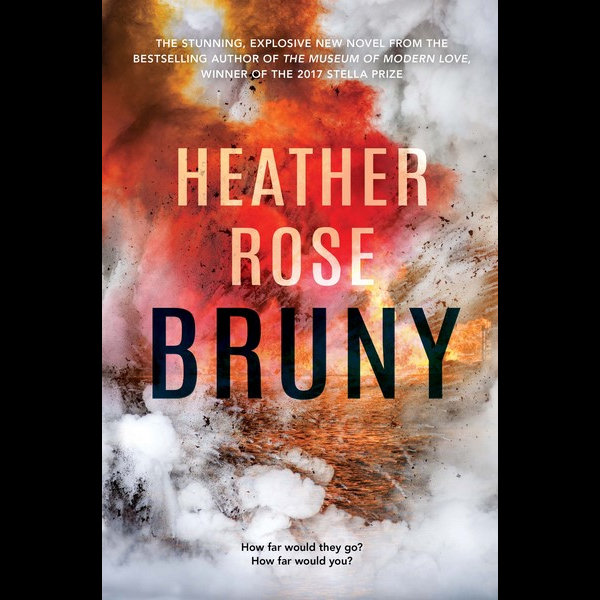 A Tasmanian political thriller?
How unexpected. And not what I would have predicted as a follow-up from Heather Rose, who was awarded the 2017 Stella for Museum of Modern Love. Bruny is a gripping novel about corruption and influence and dirty deals of world-shaking importance set – I have to say this again – in Tasmania. Who would have thought?
A massive bridge, costing billions, is being built to connect the mainland of Tasmania to Bruny Island, using Commonwealth funding and Chinese steel.  The local community is divided. Various protest groups have formed to protect the beautiful, isolated island and its picture-postcard lifestyle from change. Other groups and individuals in this most impoverished state are pro-development. State and federal politicans are also predictably divided along party lines. As the novel begins, an explosion destroys part of the bridge – and no-one claims responsibility.
This is where the narrator, Astrid Coleman ("Ace") returns to Tasmania from New York, where she's lived for many years. She's a UN mediator, called in to "manage" the situation. She's also the daughter of an ex-Tasmanian Labour premier, and the sister of the current Liberal premier. She steps into a tangled web of political corruption and intrigue and family drama.
I won't give spoilers. This was perfect rainy weekend reading, with fast moving plot, uncomplicated and easy-to-read prose and a real currency in the central issues. Astrid is a compelling narrator;  professional, intelligent, world-weary  – but still optimistic – and her family complications add a touch of humanity to the political sleaze and slime. Some of the plot did, on reflection, strain credibility but then I sometimes have a great sense of unreality when I read the news. Bruny is fun and thought-provoking, a good mix.
Bruny by Heather Rose, Allen&Unwin 2019 $32.95