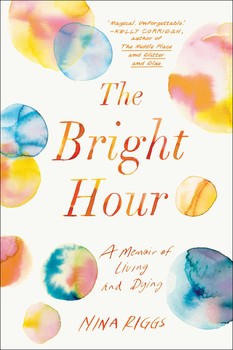 I read Nina Riggs' The Bright Hour over an afternoon and evening; I literally couldn't put it down.
It wasn't because of suspense; there was no 'how will this story turn out'; there was never any doubt about the ending. Nina Riggs, a 38-year-old poet and teacher, with a husband and two young sons, was diagnosed with breast cancer two years before she died in February this year. A 'little spot' turned into an extremely aggressive cancer – and her lovely memoir is about that time, living in the shadow of illness and death, but still, living. It's full of the beauty of the everyday – there's no 'bucket list' of amazing adventures in exotic places, just life.
The title is taken from a piece by Riggs' ancestor, Ralph Waldo Emerson, who wrote that he was  "cheered with the moist, warm, glittering, budding and melodious hour that takes down the narrow walls of my soul and extends its pulsation and life to the very horizon. That is morning; to cease for a bright hour to be a prisoner of this sickly body, and to become as large as the World."
There were many 'bright hours' – spent with her father, her mother (also dying of cancer), her husband and two young sons. The boys are beautiful individual portraits and I especially loved the black humour of the jokes Riggs shared with friend who was also going through cancer treatment. The 'casserole bitches' made me laugh out loud.
There was much in her life that was warm, glittering, budding and melodious; when her husband talked about things 'getting back to normal', she responded that this was her normal now, and she must love it.
I cried a little, though the memoir was never maudlin. Mostly I was simply moved and occasionally sobered (for there's always the thought, what would I do in her situation?) by her truthfulness and courage.
There's a 'bright' in the title of my new book, too.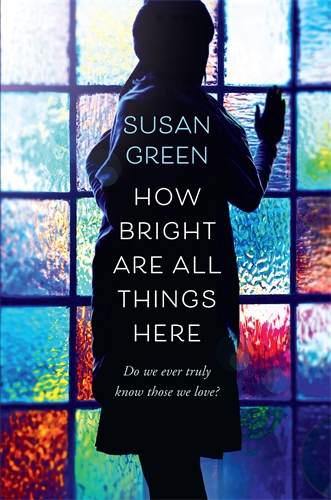 How Bright Are All Things Here is my first for adults, published by Pan Macmillan, and released in September. The title, too, is part of something else, a quotation; it's from a poem called Wonder by Thomas Traherne, an English mystical poet of the 17th century.
How like an angel came I down!
How bright are all things here!

The novel is all about Bliss, a dying woman in her her late 70's, who's reviewing her life and loves and relationships. Time twists and curls and loops back; she reflects on her past and she relives it, while her three step-children hover. I chose the poem because I've always loved it; it takes me back to a very early memory, of lying on my bed watching glittering motes of dust whirling and spinning in the air, not knowing that they were dust, entranced by the glitter and the spin.
It's taken close to ten years to get to this point and I'm not quite sure how I feel about it yet. Excited and happy, naturally – I wouldn't have pressed on for years with this novel if I didn't want it published. So there's a great sense of satisfaction.
But I'm also having to get used to an odd feeling of loss, a bit like I felt when my son left home. The book was always there, to work on and think about, and now it's finished and gone. There's an absence. I'm not quite ready yet to fill it with something else; though there is another novel quietly percolating away, it's too soon to do anything with it and I'm a great believer in leaving well alone.  We shall see.