Not many posts lately  – "Blogday," usually Sunday, has come and gone and come and gone. Time to start posting again.
I've been sick – just a cold, but the worst I've had for many years. No mucking around with sore throats or a runny nose, it went straight to the chest. And the worst thing was, it descended the minute I arrived at Wilpena Pound in the Flinders Ranges of South Australia. This was a long awaited, much anticipated camping trip.  And I felt utterly miserable.
But still. Even with lungs full of phlegm, I couldn't fail to notice the landscapes like Namatjira paintings – red soil, sage-green vegetation, white tree trunks and that combination of pale purple ranges and blue, blue sky – and the wild creatures and birds of all kinds from emus to eagles to parrots. On a six-hour drive in a very comfortable late-model car (I lolled in the back-seat like some kind of consumptive queen) I saw kangaroos, euros, wallabies, wild goats and horses; wide dry riverbeds; ghost gums and rocky outcrops like castles and algae-green pools and dramatic gorges.
Here's a beautiful little rock wallaby.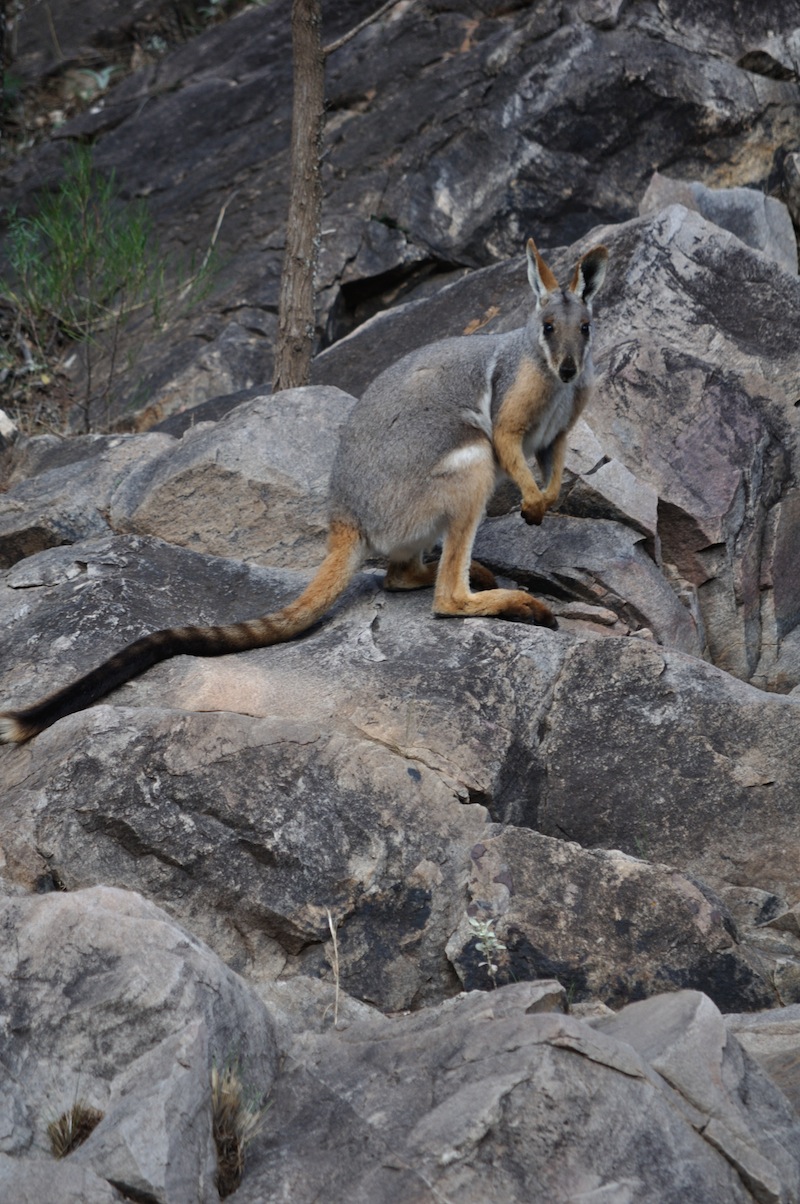 I couldn't do all the walking I'd hoped for, but as an officially sick person, I did a great deal of reading by the campfire. A Most Magical Girl by Karen Foxlee, a lovely junior novel about a reluctant witch, whiled away the time beautifully as I coughed and hacked under a blue sky, with kangaroos investigating the campsite and groups of noisy grey birds (Apostle birds, they're sometimes called, or CWA birds) chattering and scolding and sweeping around.
Back home, and still sick, I read Gravity Well by Melanie Joosten, How to Read a Graveyard by Peter Stanford and on the weekend finished Jigsaw: An Unsentimental Education: A Biographical Novel by Sybille Bedford. Published first in 1989, shortlisted for the Booker, it's a strange reading experience – messing, just a little, with the mind – making me think about how my feelings, my sympathy, sense of outrage, even protectiveness, are readily engaged for a real young Sybille… Does it make a difference if some of it is fiction?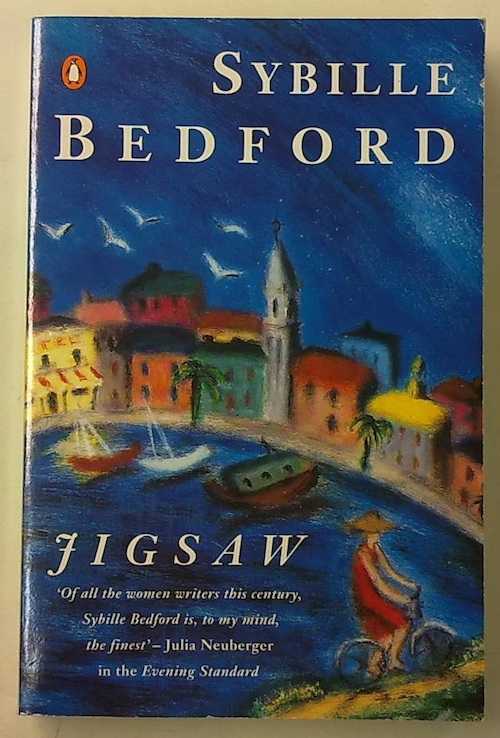 Bedford describes a dislocated childhood and adolescence in the 1920s. Sybille's German parents divorce; her father dies; she moves from Germany and then rackets between her mother and much younger Italian husband and a series of makeshift living arrangements in England, finally spending much of her time in the South of France. From the age of 15 she's more or less on her own; she educates herself, through books and study and observation; she makes friends, falls under the spell of various strong personalities, witnesses the adults making messes of their lives.
Much of Sybille's 'unsentimental education' comes from her friendship with sisters, Toni and Rosie; they're cultured German Jews living in London; Toni is married to an Englishman and Rosie is carrying on a long-term, secret affair with a judge. Young Sybille watches their lives. Her self-appointed task is to learn from them.
The important thing, what I longed to penetrate, was what went on between this man and this woman- the perennial mystery of what there is between two people – that eluded me. How often does one not wonder what thoughts accompany the talk, what is said – thrice quicker than speech – inside the head and what  goes on beneath those thoughts, at the back of the mind: who has not strained to listen to  that composition of the said/thought/felt played inside another human being? All I seemed to be able to do was watch the surface while sounding my own feelings.
I remember having thoughts a little like this at the same age. I suppose it's how you know that you're going to be a writer.