I've been having a few sleepless nights lately. Change of season? Change of life? Who knows. It's all right as long as I am lying comfortably, resting, but as soon as I start becoming cross (with myself, the world, or with my husband who is lying there, fast asleep and breathing) I get out of bed, make a cup of herbal tea and read for a bit.
Quite a bit of our latest book group novel – The Lacuna by Barbara Kingsolver – was read way, way after midnight. I got a third of the way through but didn't finish it – and I'm not going to, or not anytime soon, even though I loved the writing, the voice, the language; I loved the narrator, too, and his story and the exotic setting in Mexico with Frida Kahlo and Diego Rivera…
I stopped when I got to the part where I could see the train wreck (the House Committee on Un-American Activities) ahead – and I knew it was just going to make me too, too sad. Especially given the news at present, with right wing hysterics chucking wobblies all over the political show, here and everywhere.
Anyway, enough of that. My prescription for sleepless nights is a paperback, not too long, and with a guaranteed happy ending.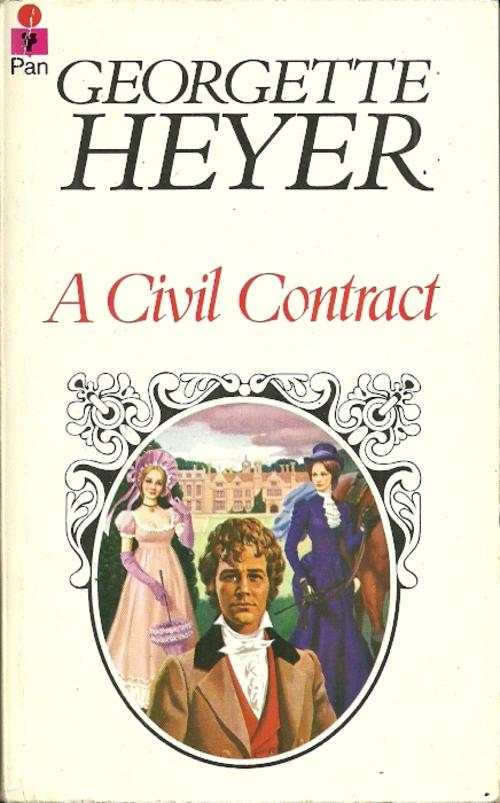 A Civil Contract by Georgette Heyer filled the bill beautifully. It was a very sleepless night indeed, and I didn't nod off till 4 am but not because the book kept me up breathlessly turning pages. Though Heyer more or less invented the Regency Romance genre, this book is almost an anti-romance. Our hero, Adam, is an aristocratic soldier, come back to England from the Napoleonic wars on his father's death.
He finds mountains of debt (naughty old rake of a Papa) and no inheritance save the family pile. What to do? Marry an heiress, that's what.
Though he's in love with the impulsive, emotional Julia (such a beautifully annoying character; you can see  the author's sympathies lie with sense, not sensibility), he has not only the estate but his mother and sisters to think of. So he dutifully does the right thing, and weds plain, prosaic Jenny Chawleigh.
The 'contract' of the title is the marriage,  arranged by Jenny's  father, a rich merchant who wants his daughter to 'go up in the world'. Everyone has many lessons to learn; Adam in particular must learn to cope with his father-in-law's overbearing but well-meant meddling: Jenny with her new status, her relatives – and her hidden but very real love for her husband. By the end of the book, Heyer's shown that dreams of romance are all very well, but a real life marriage is a matter of adjustment to reality. Those unromantic daylight qualities of affection, shared interests, comfort and kindness go a long, long way – perhaps further than moonbeams and starshine.
(By the way, isn't that a shocker of a cover? Georgette Heyer's books went through numerous editions, and some have covers that are quite lovely. And some, not so much.)
And for something completely different, Ben Aaronovitch's Rivers of London – the first in the best-selling Peter Grant series – was a cracker of a book to get one through a long, dark night. Harry Potter meets police procedural. Funny and clever. Though I couldn't say the ending was entirely happy, the killer was caught! I've reserved the next two from the library…
Hurry!