…a lot, as usual. Scrappy and disorganised hot-weather reading, for the most part. Pictures are good when the temperature is high, and so there have been lots of gardening books.
After years of yearning for beds full of flowers – roses! roses! roses! – I thought I'd got real at last. Mediterranean climate…Mediterranean garden… I devoured gorgeous coffee table books and dreamed of olive, quince and pomegranite, potted lemons, a pair of dark sentinel cypress trees, and everywhere aromatic clumps of rosemary and lavender and thyme.
But after serious study, I realised I had to get a bit more real. This is not Provence or Tuscany. It's Central Victoria, our garden is mostly sited on reef and made from rubble and dry sandy soil with a huge old grey box sucking up all the moisture it can get its roots on. In the last few year, I've ripped out so many dead and dying plants (including lavender and rosemary – the thyme is hanging on) that there are dusty bare patches everywhere. This Autumn, I plan to go on a planting spree. I will get a pomegranite and a quince, but I'm going to try something I've never really fancied before. Native. Local. Bird and insect attractors. The library's copy of Indigenous Plants of Bendigo; A Gardener's Guide to Growing and Protecting Local Plants has become very well-thumbed. I'm planning on Violet Honey-myrtle, Slaty Sheoak, Sweet Bursaria, Billy Buttons and Lemon Beauty Heads. The names aren't as evocative or poetic to me as olive, quince and company, but perhaps they will be, in time – if they grow.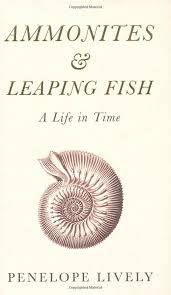 Penelope Lively has long been a favourite of mine. An inspiration, too. A writer of children's and adult novels, exploring again and again the themes of past and present, memory and time, history and biography large-scale and small that fascinate me. She's 80 and still working. This not-quite-memoir was published in 2013.
She writes that in old age,
…I find myself thinking less about that happened to me but interested in this lifetime context, in the times of my life. I have the great sustaining ballast of memory; we all do, and hope to hang on to it. I am interested in the way memory works, in what we do with it and what it does with us. And when I look around my cluttered house -more ballast, material ballast – I can see myself oddly identified and defined by what is in it: my life charted out on the bookshelves, my concerns illuminated by a range of objects.
These, then, are the prompts for this book: age, memory, time, and this curious physical evidence I find all around me as to what I have been up to – how reading has fed into writing, how ways of thinking have been nailed.
The curious physical evidence… how reading has fed into writing…
That's something to explore. Maybe my theme for 2015?