Who would have thought there were so many books about reading? It's a whole genre. Reading a particular author – you could probably have a sizeable shelf devoted to reading the works of Jane Austen. Or reading just one book, like The Road to Middlemarch by Rebecca Mead, which was about reading – well, Middlemarch. I remembered reading it when I was in my 20's. It seemed like a wonderful, huge, whole world of a novel, one you could live an entire life in, and I loved it. Lots of characters, lots of storylines, happy endings and tragic endings and paragraphs. Phrases that have stuck in my mind for 30 years. Like the one about the squirrel's heart.
If we had a keen vision and feeling of all ordinary human life, it would be like hearing the grass grow and the squirrel's heart beat, and we should die of that roar which lies on the other side of silence.
Now, read that again. Isn't it amazing?
I've never re-read Middlemarch, but after reading about reading it – Rebecca Mead's book was beautiful, moving and thoughtful –  I decided I would. And I'm ashamed to say that I couldn't. I couldn't say exactly why. Perhaps you can't go back again. But the thing is, and I'm almost ashamed to admit it – I really enjoyed reading about reading it.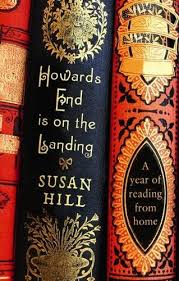 Which led me on to Howard's End is on the Landing: A Year of Reading at Home by Susan Hill. Hill, author of The Woman in Black amongst 37 published books, decided that for a year she would read only the books that were already on her shelves. Books she'd read once and forgotten; old favourites; books she'd never read at all.
I wanted to repossess my books, she writes, to explore what I had accumulated over a lifetime of reading and to map this house of many volumes… A book which is left on the shelf is a dead thing but it is also a chrysalis, an inanimate object  packed with the potential to burst into new life.
I'd actually read Middlemarch, but many of the books Hill wrote about were known to me only by the titles. She compiled a list of 40 books, the 'Final Forty' she called it. Ignoramus that I am, I've only read 8 of those books. I've read 22 of the authors, but still…! A self-improvement project looms – or does it? Because there are always so many new books to read, too. New novels, new authors.
This is the time of year in a bookshop for new releases – as publishers hope that everyone wants to give and get books for Christmas. At the bookshop where I work, boxes of them keep arriving day after day so that the whole place is stuffed full of newness. I fear the publishing industry is like a dying tree, producing reckless amounts of blossom and fruit, one last fling at survival.
I don't have a house of many volumes like Susan Hill, but I do have a floor to ceiling bookshelf in my study that's stuffed to overflowing. There are old favourites, yes – but would do they bear re-reading? And there are many, many that I've never read. Will I ever read the collected poetry of Robert Browning? Or The Vicar of Wakefield by Oliver Goldsmith, or Lavengro by George Borrow? I still have so many books that  belonged to my mother. Classics, mostly. Plays and poetry. She read them, every one. Perhaps, next year, I might give Susan Hill's project a try. A modified try. Say, two a month from the shelves. One I've never read, and one I want to re-read. That doesn't sound too daunting, does it?