I thought I was reading at a rapid rate (3 books in the last week) until I went to the SCBWI (Society of Children's Book Writers and Illustrators) meeting on Saturday. I even thought that writing and publishing 11 books in 25 years was good going. But I now know that both my reading and writing rate are pitiful. One of the speakers was Michelle Prawer, a judge for the Children's Book Council of Australia's annual awards. She'd  finished an entire book that morning and has read her way through more than 300 books in the past few months. One of the great pleasures of attending the CBCA awards in Adelaide last year was finding out how wonderfully passionate about children's books and reading those judges are. Michelle's energy, commitment and enthusiasm are inspiring – and she has 7 children, too!
The other part of the meeting was a panel of 'quiet achievers'. These are writers who mayn't be household names but whose books are literally everywhere in schools and libraries. The group included Edel Wignell, who's published over 100 books. What an achievement. (And she told us in a funny little aside that it's a good idea to have foreign royalty on your side – her recent Bilby Secrets apparently caught the eye of Princess Mary, and it's been translated into Danish).
I don't think that I'm that kind of achiever, somehow. I like to go for walks or do the housework or sit staring into space ruminating on my characters and slowly brewing up a story for a few months before I write a single word. There's no right or wrong way to create and write, but I think you do need to know how you work best. I have written very quickly when I've needed to  – once, when I was a Dolly Fiction author, a writer dropped out at the last minute and I agreed to write a 30,000 word novel in 10 weeks. I was working 3 days a week as well, and the whole process was almost intolerably stressful. I revisited that situation in a minor way last year, when I had 5 months to write the next Verity book.  I now know that I do need to time to slowly build the story – or else it ends up a little undercooked. Falls flat, in other words. I chose to re-write (rather than try to fix) the second half of the novel because I just hadn't thought about it long enough.
Back to summer reading. It's too hot for Wolf Hall, which has been sitting on my bedside table since early January, so I've been dipping into children's books from my own shelf and from the library. I read Wildwood by Colin Melot (and I must mention the stylish illustrations by Carson Ellis). I dashed though this one, carried along by the exuberant fantasy. It's like an American The Lion the Witch and the Wardrobe. Melot's Wildwood has much in common with Narnia – talking animals, battles, a powerful female character (the White Witch role is taken here by the chilling Dowager Governess) and the quest to find a missing sibling – but Prue and Curtis are fresh and engaging characters, and the geographical/political world building is complicated and convincing. Except for the dietary considerations.
Dietary – what? Yes, I know it's a mite pedantic of me, but it's got me worried. What do the animals eat?  Sparrows, eagles, owls, rabbits, foxes, coyotes, bears –  they all live alongside each other. Do they eat each other as well?
I call this the "Market Gardens of Rohan" problem. In the film of The Lord of the Rings, Rohan – which is the home of the horse lords – is set high on a hill, amidst plains that stretch on and on… Where, I wondered out loud, much to the annoyance of my family, were the market gardens? Where did they get their food from? Or are you supposed to just skip these practical issues and get on with enjoying the fantasy?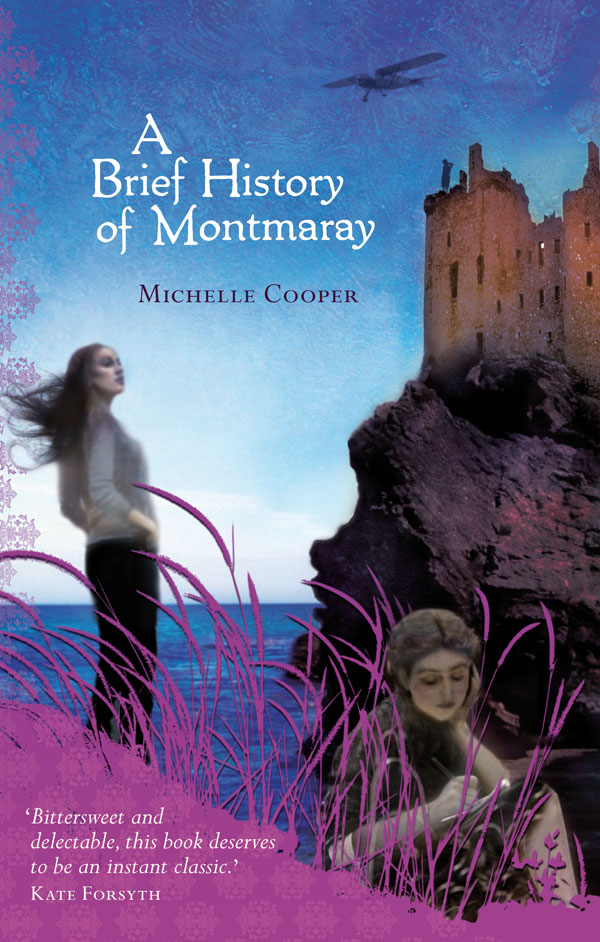 My other two books were A Brief History of Montmaray which I thought was entrancing. I've passed it on to my nearly fifteen-year-old niece. She had loved my Christmas present to her, I Capture the Castle by Dodie Smith, and I think this will fit beautifully with the other title.
Montmaray is a minuscule island kingdom ruled by an impoverished, eccentric English family. It's 1937 and the larger world is poised to come crashing in. Michelle Cooper weaves the rise of fascism, the Spanish Civil War, Nazi grail hunters, post-World War I trauma, homosexuality and issues of class and gender into a riveting coming-of-age drama. With lots of funny bits, too – and you'll be relieved to hear that Montmaray has an entirely convincing food chain, with vegetable patches, bee-hives, a goat, lots of fish and seafood and whatever supplies they can obtain from passing Portugese fishing vessels.
Finally, before I left for the SCBWI meeting, I grabbed a random thin children's novel to read on the train. It turned out to be Leon Garfield's Devil-in- the-Fog. What a wonderful book! I read in the blurb that Garfield originally intended to call it The Dead Little Gentleman, and critic Margery Fisher said that 'does seem to sum up perfectly its peculiar compound of mystery, violence and Dickensian humour…It is a book to leave firmly out of categories and accept thankfully for what it is – a masterpiece.'  Nothing I need to add.
Except… I've been playing around with an idea for a new story, featuring a little heroine from a family of travelling actors. Devil-in-the-Fog's hero is 14-year-old George Treet, from a family of…yes, strolling players. I take that as a serendipitous nudge that I'm going in the right direction with my thinking and ruminating and brewing.