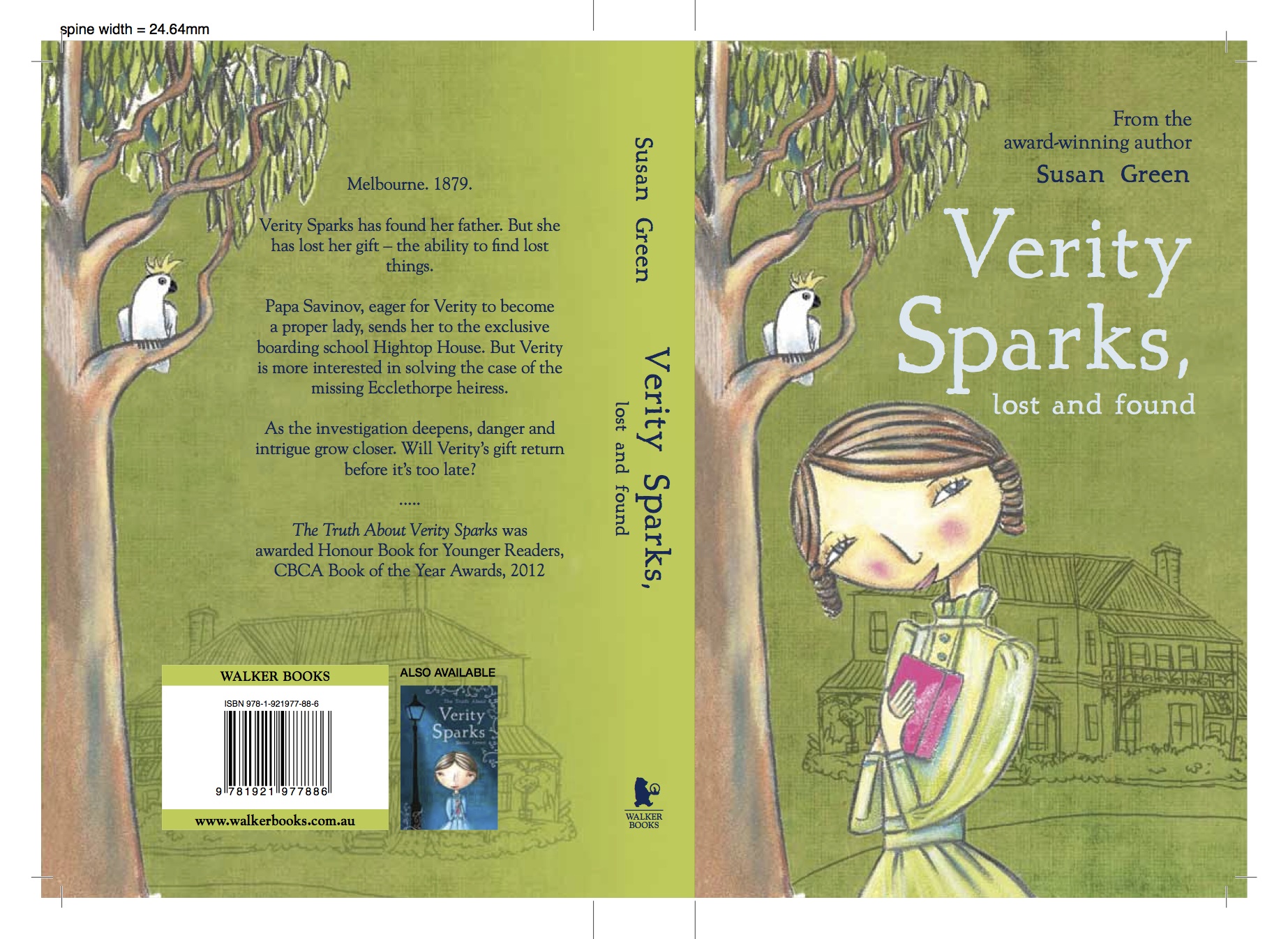 I have been tagged with a meme. Actually, I was tagged with a meme quite a few weeks ago, but since I didn't understand what it meant, I conveniently forgot about it, even though it was just a harmless-seeming list of questions about my work. But it was my writer friend Simmone Howell* who sent me the email, and when I saw her in a cafe last week, she reminded me. I still don't actually understand what it means, but here it is.
(1) What is the working title of your next book?
The working title was The Trouble with Verity Sparks, but the trouble with that title, according to the marketing department, was that it was too close to The Truth About Verity Sparks. Apparently they didn't even realise that it was a different book. Hmmm. Like Kath (of Kath and Kim fame), I say, "Interesting, but I don't agree." After a few tries, I came up with Verity Sparks, Lost and Found. I don' t like it as much, but I do like it.
(2) Where did the idea for the book come from?
It's the second book about Verity Sparks – maybe in a trilogy or even a series, for goodness sake! – so what happened to Verity in the last pages gave me the starting point. She, with Papa Savinov and the Plush family (minus the Professor) was about to sail to Australia. I started looking at photographs of Melbourne in the late 1870s and early 1880s, and somehow the settings (the city of Melbourne, the seaside suburb St Kilda, the mountain retreat Mount Macedon) made it all tumble into place.
(3) What genre does your book fall under?
Junior fiction. And, I've been told, "gaslamp" – which means Victorian, I think.
(4) Which actors would you choose to play the part of your characters in a movie rendition?
I'm not sure, but they would have to be English, of course, with English teeth, not even-sized gleaming American ones. Verity herself is small, neat, with light brown hair and a pointed little face. Her eyes are grey and very shrewd and observant. I was at a birthday party for a friend the year before last, and sitting at my table was Verity. She's the daughter of an acquaintance of mine, fourteen years old at the time, and I hadn't seen her for a few years. It gave me quite a turn!
(5) What is a one sentence synopsis of your book?
Verity vanquishes boarding-school snobs and manipulative murderesses, and gets her gift back.
(6) Will your book be self-published or represented by an agency?
It's published by Walker Books in May; I'm represented by the Drummond Agency.
(7) How long did it take you to write the first draft of the ms?
It took me five months to write the first draft, but it needed a radical overhaul – in fact, a new second half – so add a couple more months on to that.
(8) What other books would you compare this story to in this genre?
I'm not sure how to answer that one. Readers who liked the Sally Lockhart mysteries might like Verity. And readers who like Joan Aiken (The Wolves of Willoughby Chase) might like it too.
(9) Who or what inspired you to write this book?
Walker Books asked for another title about Verity. And I had extra adventures for Verity up my sleeve (I still do, just in case).
(10) What else about this book might pique the reader's interest?
Boarding school bitchiness, fraud and impersonation gives way to hypnotism, shipwrecks, drug use and spirit photography. There are characters with hidden pasts who are not what they seem. But don't worry! It all ends just as it should.
* Simmones's new book, Girl Defective, is released in March and I'm itching to read it. A few years ago Simmone (Notes from the Teenage Underground, Everything Beautiful), Lee Fox (Other People's Country, Ella Kazoo Will Not Brush Her Hair and four other picture story books), (Saltwater Moons and many published short stories) and I used to meet once a month to read our works in progress and get some of writerly support. We heard a lot of Girl Defective as a work in progress, but never got to know how it ended. So now at last I will.