I'm feeling well again, at last. I haven't had a cold/virus/bug this bad for many years, and it's come as a bit of a shock. It wasn't Covid or flu…just stay-in-bed horrible.
So lots of reading.
When I'm unwell, I get really picky – like Goldilocks – and any book has to be just right. Nothing too heavy, or too long, or too deep and meaningful. I made it through half of Meg Mason's excellent Sorrow and Bliss (from the library) and then returned it with a note to self to try again. Likewise Maggie O'Farrell's  The Marriage Portrait and Julian Barnes' Elizabeth Finch. I was feeling way too languid for literature.
Crime seemed to work well. I re-read a few of the Sue Grafton 'Alphabet' mysteries. I have never read much by Dashiell Hammet, and Red Tide was quite a revelation; tough, violent, political.
I then moved on to a series my brother recommended. Charlie Parker novels are by Irish writer John Connolly and, like a pusher, my brother loaned me my first hit. Now I'm scouring the library shelves and searching Op Shops. Addictive is truly the right word. And perhaps they're not terribly good for me, so I've had to self-impose a temporary halt. Nightmares!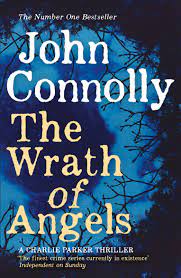 Charlie Parker is a retired cop turned PI and part-time bar-tender, based in the US state of Maine. I seem to be reading the series in reverse, but the backstory is that he lost his wife and child to a serial killer. This tragedy changed his life; he's now on a mission to hunt down and destroy evildoers. And there are so very many in the state of Maine.
The genre-bending twist to these private eye mysteries is that his job of investigating the exploits of Maine's many evil-doers has led Parker to investigate the nature of evil itself. There's a strong and intriguing element of the supernatural (cue dread and terror and nightmares) that co-exists with Parker's mundane PI chores of surveillance and strong-arming.
Some of the stories have been a bit too violent for me – violence against women and children, sexual violence, explicit torture – and they've made me a bit queasy but Wrath of Angels was, as Goldilocks would say, just right.
Two men contact Parker with the strange tale of a wrecked plane found deep in the forest. Found in the wreckage was a bag, which contained money – and a mysterious list of names. This list is being sought by a shadowy group of powerful men and women who – Parker come to believe – are fallen angels. These beings, known in this novel as The Backers, nurse an eternal grudge. Their goal is to sow discord, hatred and cruelty; to do this, they recruit greedy, corrupt, decadent mortals from all walks of life. These people are controlled by not-quite human handlers – or are they demons? Helped by his adorable psychopath buddies, the gay couple Angel and Louis, Parker battles his way through to an equivocal triumph. I loved his suggestion that far-right shock jocks, politicians, media moguls, internet fanatics and fantasists (looking at you, Donald, Rupert, Vladimir, Proud Boys and the rest) are really just the tools of the Backers. Sounds entirely plausible.