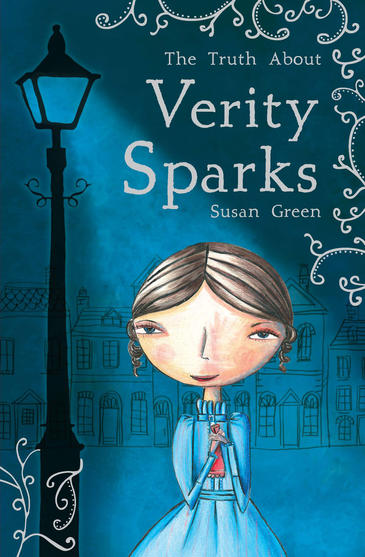 Verity Sparks was originally called Evensong Levine.        
The character of Verity (but not the name) came to me as I was walking past one of East Melbourne's Victorian churches. On a board outside, the service times were displayed. Evensong was at five thirty. And from that I spun the story of a little baby abandoned on the steps of a church and found by a kind elderly couple who were walking past. They named her Evensong, and they gave her their surname –  Levine. They were old-clothes merchants. Not here in Melbourne, I thought, but in the East End of London in the 1870s.
I walked further, looking up at the buildings with their columns and carvings and big stone walls, and thinking that you'd feel so small and unimportant if you were a little foundling in a big, busy city. I could see, inside my head, that baby grown into a young girl, alone and dwarfed by great grey buildings of a huge metropolis. She was running here and there, delivering hats. Hats? Yes, hats. She was an apprentice milliner. She kept nagging at me to write her story, but when I got started, the name Evensong didn't work.  My foundling had to be sensible, smart, brave and truthful. Verity, which means truthfulness, sounded just right. The old couple had to be shelved also, for I needed Verity to be orphaned in order to have adventures, and I just didn't want to kill dear Mr and Mrs Levine. I wanted an ordinary surname, and what could be more ordinary than Jones? A Mr and Mrs Jones, I decided, could be disposed of. Verity Jones. I was all set.
And the book's title was different, too.
For most of the time while I was writing this book, it was called Verity Jones and the Secret of the Seventh. I had just about finished it when I was awarded a Varuna Fellowship. Varuna is a writer's centre, a beautiful house in Katoomba in the Blue Mountains of NSW. The house belonged to a famous Australian writer called Eleanor Dark. I too
I was revising it my manuscript at Varuna when I realised that it was a rotten title. Too much like Harry Potter and the..(take your pick). Not to mention Indiana Jones and the Temple of Doom and even Bridget Jones Diary.
Each bedroom at Varuna contains part of Eleanor Dark's book collection. While I was revising (and pondering my dud title) I started reading a novel by an English writer called Muriel Spark. Suddenly I had my name. Spark. A name that was sparky and sparkling; that made you think of sparklers and bright sparks, and even, as the Bible says, that man is born to trouble as sparks fly upwards… I decided on more than just one spark for my girl. She was Verity Sparks.
Verity spends most of the novel trying to find the truth about herself. Who are her parents? Why did they leave her? Why did her adoptive mother leave her a ring and a medallion? Why is someone stalking her? I don't think I am very good at titles, but when this one came to me, I knew it was just right. The Truth About Verity Sparks.
My name is Verity Sparks, and I've got itchy fingers…
The Truth About Verity Sparks is a mixture of genres. It's a historical-detective-murder mystery-melodrama for younger readers. There are no vampires. But it has a supernatural element. Ghost Hunters: The Victorians and the Hunt for Proof of Life After Death by Deborah Blum was the book that helped me locate Verity's adventures amongst the late Victorian craze for spiritualism. Professor Plush's Society for the Investigation of Psychical Phenomena (the SIPP) is based on a real organisation – which still exists – called the Society for Psychical Research.
Verity can find lost objects by thinking about them, and her fingers itch when she's getting close. Professor Plush is fascinated by her gift, and subjects her to hours and hours of experiments. Verity is rather a reluctant psychic! I wanted to invent a new "power", so I  asked my mother to make up a word a bit like telekinesis (which means movement of an object at a distance, supposedly by paranormal means). Make it Latin or ancient Greek, I asked her.  According to my mother, tele is Latin for at a distance, ago is Greek for get or fetch and visio is Latin again, for see. Teleagtivism. So the idea is to see at a distance and then find. My mum died before the book was published, but I dedicated it to her.
The light and dark of Victorian London.
The Victorians are what we call people in England or English colonies who were alive in the reign of Queen Victoria (1837-1901).
London was the centre of the British empire, and in the 1870s it was a huge, sprawling, bustling metropolis. Technology, industry and science were leaping ahead; British factories were supplying the world; railways were spreading all over the countryside…but not everyone benefited from progress. London reflected this with areas of fabulous wealth side by side with appalling slums full of unemployed people, many of them from country areas, and a huge criminal underworld lurked in the dark streets. I tried to show this contrast in The Truth About Verity Sparks.
I'd been to London, but not for nearly 20 years, and though it would have been wonderful to have visited to research the places where Verity's story took place, it wasn't going to happen.
But I studied history books about London, relied on old maps and guidebooks, researched on websites, read Victorian novels and watched DVDs of movies set in that era.
A picture's worth a thousand words.
That's what they say. I'm not sure that I entirely agree – after all, I am a writer. But I 
 often use art to help me when I'm writing. Gustave Dore's engravings of life amongst the poor people of London helped me visualise some of the places where the story was set. Verity lived near a second-hand clothes market with her Aunt Sarah and Uncle Bill Bird, and she was chased though the slums of the East End at night. Dore's dark, murky, scary scenes almost gave me nightmares.
James Tissot's paintings help me describe rich people's lives. The one below, called "The Bridesmaid" shows clearly the difference in dress between classes. The girls in the picture, probably servants or shop assistants, are very plainly dressed, as Verity would have been. But look at the bridesmaid – all those frills!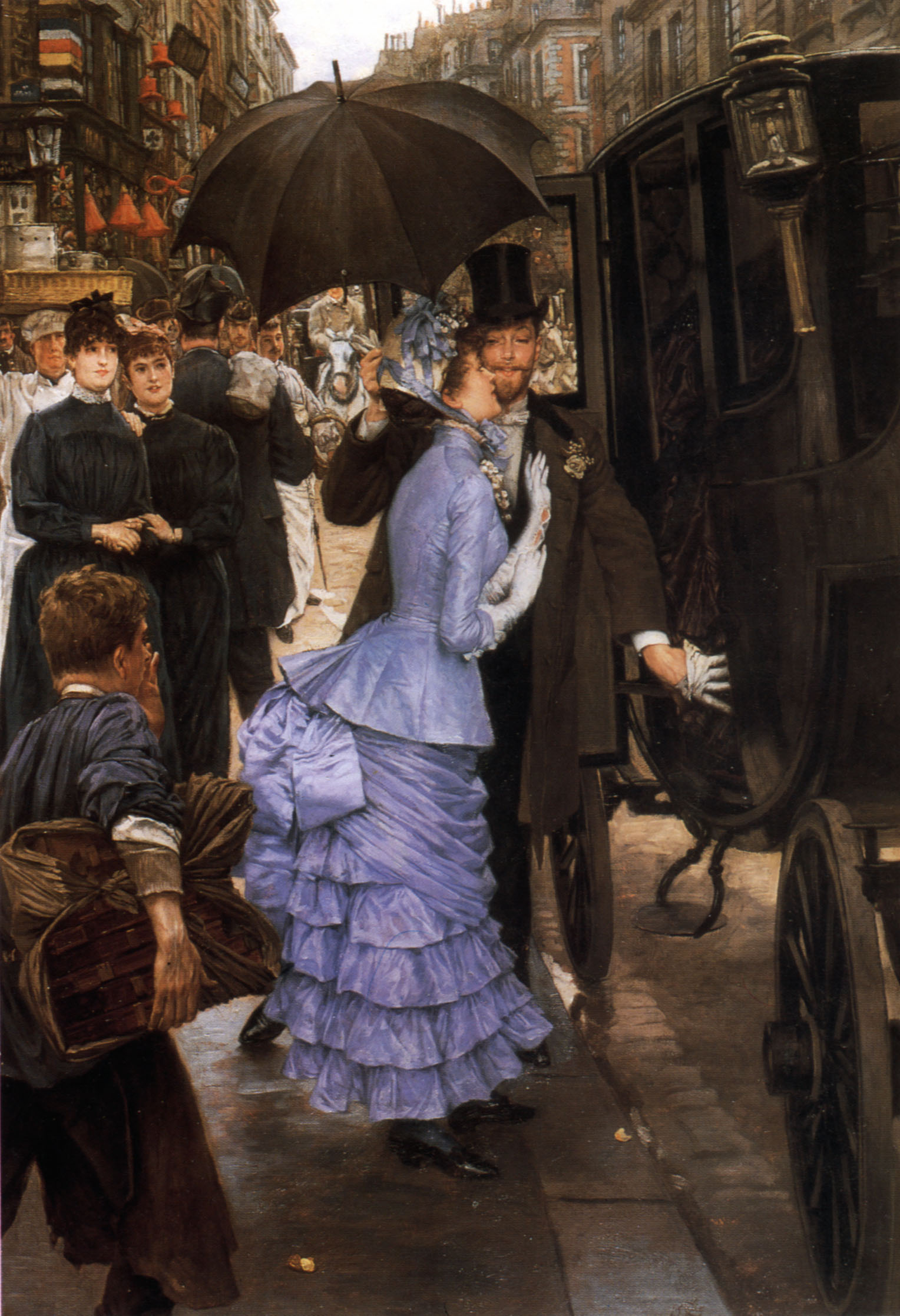 When I read about James Tissot's life, I actually ended up using him as a character in the novel. He really did have a partner called Kathleen who died of consumption  – what we call TB. This picture of a picnic was the basis for a scene in the novel where Verity goes with Judith to visit the Tissots, and meets Daniel and Mr Savinov there.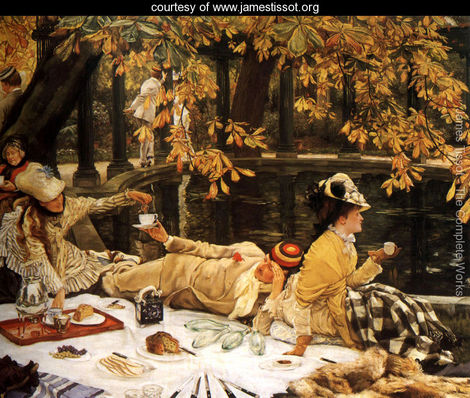 Saddington Plush is a real person, too, though I don't know anything about him. I found the name on a grave in the Angaston cemetery in the Barossa Valley in South Australia back in 1994. Both Saddingtons (senior and junior) are wonderful characters. They are intelligent, kind and caring – as well as a little eccentric – and  I hope none of the real SP's relatives think I am being disrespectful.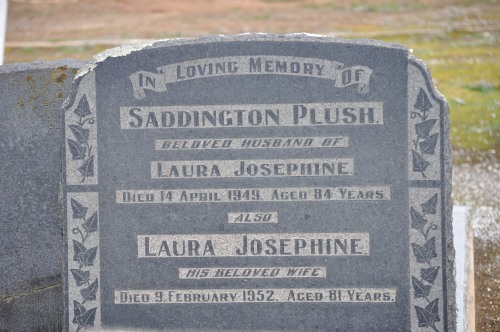 Here's a bonus story from the first book…
THE CASE OF THE MYSTERY SHOPPER

'This is one for our Verity, I think,' said the Professor, with his eyes twinkling, as he read the morning mail the next day. 'Here, my dear; look at this.'
The letter from this client was short and blunt.
Dear Mr Plush,
Mrs Sunday recommended I try you. I recently received these letters. My sister goes shopping every day, but now I am worried.  Can you help me?
Yours faithfully,
Adelaide Phillpott
A couple of slips of paper fluttered out of the envelopes. Are you sure she's shopping? And Why don't you ask to see her purchases? The letters seemed more nosy than nasty. The closest to poison pen was the one that read What is she really up to?
'What's the story?' asked S.P.
'Mrs Phillpott is a widowed lady living very respectably with her sister, Mrs Hamlyn, also a widow, in Mayfair. A couple of weeks ago she started getting these letters. The simplest thing of course would be to show them to her sister, and ask what they were all about, but the lady is very delicate about the whole thing. Doesn't want to offend her sister, who is, as it happens, the one with the money. Mrs Phillpott wants to find out what is going on. '
'And so she came to you.'
'Via Mrs Sunday, who must be the confidante of half of London judging by the number of cases she's referred to us.'
'Do we know who wrote the letters?' asked S.P.
'Mrs Sunday says it is a nosy neighbour, a Miss Thimbleby. She's already been dealt with. Apparently Mrs Phillpott has very pointedly not invited her to tea.'
S.P. gave a shout of laughter. 'That's punishment for you!'
The Professor smiled. 'Verity, I want you to tail Mrs Hamlyn.'
'Tail her?'
'What slang you use, Father,' said S.P. with a grin. 'Quite shocking! He means follow her, Verity.'
'Why me?' I asked.
'Shopping, Verity! Can you see me or Father lurking in the haberdashery?'
They were right. This really was a case for Verity Sparks.
Mrs Hamlyn was a plump, energetic lady of about sixty. Her husband must have died long ago, for though she'd pinned a jet mourning brooch to her chest, that was the only black she wore. Her gown was the colour of a drinker's nose, and her hat looked like liver on a dish.
She bustled out of their house in Portman Square at about ten o'clock. Clutching my parcel (an empty hatbox tied up in brown paper) I followed her first into Notting Brothers, where she bought a yard of ribbon, and then into Ferrell's Famous Emporium, where she got some bootlaces. Then into Postlethwaites, and right through into Oxford Street, and along Duke Street and down Brook. I was quite puffed by now – the old lady trotted along at a cracking pace – when she turned sharply. A few houses along the row, she just about ran up the steps, rapped at a door which opened smartly, and disappeared inside. I turned round and walked back to the corner where S.P., got up like Champagne Charlie in a straw-coloured wig and one of his ridiculous moustaches, was waiting for me. I asked him what I should do.
'Knock on the door. Say you have a hat to deliver.  With a bit of carry- on about the address and the lady's name you ought to be able to snoop just a little. I'll be just outside in the street, so don't worry.'
I walked down the steps to the servant's entrance and knocked, but even before the door was answered, I could hear it. Moaning and groaning, warbling, gibbering and blubbering. What on earth could it be?
'Hat for Mrs Manton,' I said, holding out the box when the maid opened the door.
She shook her head. 'No Mrs Manton here.'
'No Mrs Manton?' I said, like a dummy.
'No.'
'Did I get the address wrong then?' I said playing for time.
'Must of,' said the maid in a bored voice, shrugging her shoulders. It wasn't her problem, and she started to shut the door. Just then, the groans turned into shrieks and cries, and then sunk back down again.
'Cor, what's that noise?' I asked. 'Someone sick?'
'That?' She jerked her head. 'Holy Moaners, that's what it is. Fair gives me the heebie-jeebies just listenin' to 'em.'
'Holy Moaners?' I repeated.
'It's a dozen ladies wot orter know better wavin' their arms an' rollin' their eyes an' talkin' in tongues while Mother Malachi…' Here the maid paused for drama and rolled her eyes. '…Mother Malachi purifies 'em.'
'Well I never!' I said, and then right on cue, another bout of wailing burst out from the drawing room. A door slammed somewhere in the house, and cross voice called, 'Florrie! FLORRIE!'
'Housekeeper,' whispered the maid, and then said in a loud voice, 'Sorry, but you've got the wrong 'ouse. Try number fifty-five,' and she shut the door with a bang.
S.P. was loitering by the next-door railing. I told him what I'd learned as we walked back to Oxford Street. It turned out he'd heard of the Holly Moaners.
'They prefer to be known as Mother Malachi and the Sisters of Purification,' he said, twirling his fake blonde moustache. 'They believe that different sounds produce spiritual vibrations which cleanse the soul. So they sing.'
'Sing!' I snorted. 'Sounded like a herd of sick cows to me.'
'Mother Malachi's order is similar to the Ranters, the Quivering Redeemers and the Chorist Brethren,' S.P. went on. 'Fervent but harmless. I wonder how Mrs Hamlyn got involved?'
'Well, I s'pose it gives her an interest,' I said.
'Moaning and shopping!' said S.P. 'That's a nice life! Come on then, back to Portman Square to tell her sister what we have found out.'
We thought Mrs Phillpott would be upset to find out that her sister had joined the Holy Moaners. She was nervous when we got there, but when we told her the news, she stopped twisting her rings and fiddling with her lace.  She leaned back in her armchair with a sigh.
'Sisterhood, did you say?' she asked. 'So they would all be ladies, then?'
'I presume so.'
'Well, that's all right, then. She still comes to church with me at St Sycorax's every Sunday, so there's no reason anyone needs to know about it. It can be her little secret.' She folded her plump hands in her lap. 'Last year, it was Signor Mezzaluna, and then I was worried.'
'I'm not sure I understand, Mrs Phillpott,' said S.P.
She leaned forward. 'My sister, you see, must have an interest. Last winter it was singing lessons. I was quite worried for a time – I thought that Signor Mezzaluna might be some mountebank wanting to marry her for her money. But you know what? He was married already, with seven children! So it all came to nothing. I'm her older sister after all, and I have to keep an eye on her. You know what they're like, these middle-aged ladies. They can be – how shall I put it ? – susceptible to charming gentlemen.'
'I know, dear lady,' said S.P., kissing her hand. That fluttered her a little, and she blushed as she served us glasses of sweet wine and a plate of macaroons.
'You should be ashamed of yourself!' I scolded him later when we got back to the carriage. 'Flirting with Mrs Phillpott! She's old enough to be your mother! You'll do anything to solve a case, won't you?'
S.P. just grinned.