A few weeks ago FOCAL (Friends of the Castlemaine Library) asked me to talk at their Annual General Meeting. I was happy to accept the invitation for all sorts of reasons. One is that 2013 has been (and is still, for a few more weeks at least) My Year for Saying "Yes". And another is that I have a long association with the Castlemaine Library. I've borrowed hundreds and maybe even thousands of books since had my first library card in 1967.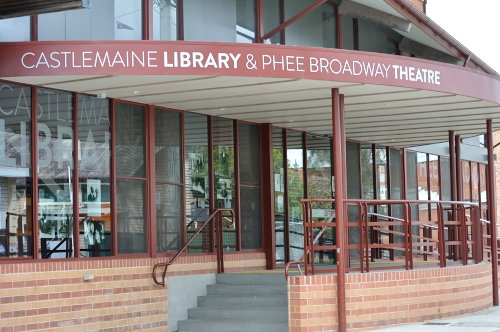 And there's a family connection, too. My mother was one of the movers and shakers behind the establishment of  FOCAL. That was back when that evil Premier of Victoria, Jeffrey Kennett, decided to wave the magic wand of economic rationalism over our fair state and even libraries had to submit themselves to a farce called Compulsory Competitive Tendering. Castlemaine people were and are fiercely protective of their library and FOCAL still thrives twenty years on.
When ill-health kept her housebound, Mum remained (through me and the visiting 'book lady') a keen borrower. When she died, my brother Michael had the wonderful idea that, instead of flowers, people donate to our library. Over $1000 was given, and it has been used to buy a subscription to the London Review of Books. I do get a little lump in my throat every time I see the little label saying "in memory of Helen Green".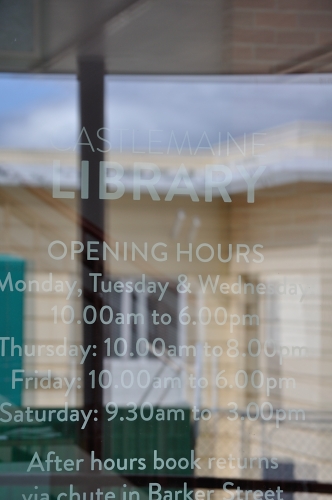 I began my talk by saying that, for a proper talk on public libraries, listeners should go online and find Neil Gaiman's Why Our Future Depends on Libraries, Reading and Day-Dreaming. He says it all, and better than I ever could. My talk was purely personal, about the libraries in my life, and how important they've been.
I was a reader before I was a writer, but I took a while to get going. My early struggles with literacy were compounded by the general unattractiveness and tedium the first 'reader' –  John and Betty. I wasn't allowed to skip ahead or move on until I mastered each page and so the whole enterprise took on the feeling of a terrible punishment.
However, thanks to my mother I did finally crack the code and when I did, I thought I could read anything. There were a few false starts, with attempts at Ulysses by James Joyce (it had a nice cover) and Orlando by Virginia Woolf. I was no child genius and couldn't understand any of either of them. But the breakthrough to avid, bated-breath, addicted reading came from the classroom bookshelf at Campbell's Creek PS.  It was there I discovered The Secret Seven. I will have no truck with those who have a go at Enid Blyton (and Neil Gaiman has a thing or two to say about her as well). She served to get me hooked on reading, primed for further adventures and other authors.
The first real library of my life was also at Campbell's Creek. It was a kind of inner sanctum; dark and dim, with lots of wood, a musty smell. My memory's a bit faded, but = perhaps there was also an Honour Roll or a display of sporting cups. It was there I had the Billabong Revelation.
The Billabong books by Mary Grant Bruce, a dozen or so of them, were set on a pastoral property in Victoria belonging to the Linton family. Norah and her brother Jim, their father David, Jim's friend Wally, plus the family retainers – fat and comfortable cook, Irish stockman, Chinese gardener, Aboriginal roustabout… It was my first real taste of children's novels set in Australia. Not just Australia, but Victoria, my home state. And country Victoria, too. I could readily imagine myself there.  I wanted to live there; I wanted to be Norah.
Years later, when I had to re-read a couple of them for my Graduate Diploma of Children's Literature, I realised that the books were racist, sexist, chauvinistic, jingoistic and – even worse – that Norah was thick as two short planks and a thoroughgoing Philistine to boot. Sometimes, you really can't go back again.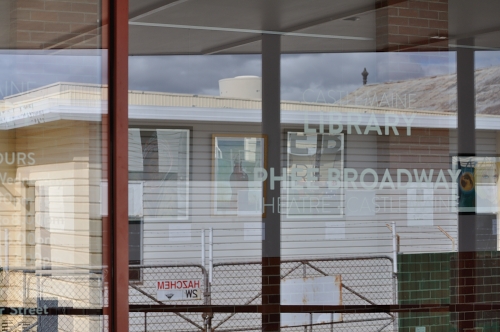 In 1967 my family moved from Campbell's  Creek into Castlemaine, and I joined the library. There, I had my first taste of how tactful and non-judgemental is the ideal librarian. There were no comments about my borrowing and re-borrowing and re-re-borrowing of Billabong's Daughter (that's the one where the sexless and almost romance-less romance of Wally and Norah comes to a head). The same with the library's small stock of sex education books. Were the two connected? Probably.
IN 1969 we moved away from Castlemaine; in 1970 I started High School in Frankston. I joined the Frankston Library as a Junior Borrower. So while I could and did borrow all sorts of saucy reading material from school, I had to remain Junior at the public library until I was 14.  Perhaps this enforced junior reading is a factor in my becoming a children's writer. I read all the fantastic authors of 1960s, and it was a golden era of children's literature. Joan Aiken, Alan Garner, Susan Cooper, Patricia Wrightson, Ivan Southall, Eleanor Spence, Hesba Brinsmead, Nan Chauncy… I had an abundance to choose from. That's the wonderful thing about libraries. There's none of the anxiety of choosing a book to buy. Borrowed books can be returned, with no hard feelings, if they're not right. You can take a chance. You can compare and contrast, work out your likes and dislikes, follow an author or a theme or choose by cover. What a luxury that is.
Then of course, when I turned 14, I was able to move into the adult section. This enabled me to take home bizarrely assorted reading matter. A typical weeks borrowing could be a couple of Country Life magazines, a massive compendium on witchcraft and demonology,  the filmology of Joan Crawford and a couple of gothic novels by Victoria Holt.
A word of explanation here. Gothic novels were Jane Eyre-ish numbers where a governess/poor relation/innocent bride comes to a creepy mansion on the moors/castle on the edge of a cliff and discovers a horrible secret or two, nearly loses her life but finds true love with the brooding, moody, terribly good-looking/craggily masculine hero. Yes, this is escapist fiction. It's romance. And – as with Enid Blyton – it seems some people just can't stop themselves sneering. Neil Gaiman (again!) has something to stay about escapist fiction, too. How wonderful it is that a low-tech, hand-held device is able to transport, divert, or console. It can take you to a better place than the one you're in…or simply another place. And we all need that sometimes.
After I finished school and left home, there were libraries to join wherever I lived. I'll skip over Carringbush in Richmond, Glenferrie in Hawthorn and the tiny little outreach branches in Clunes and Creswick and gallop full speed ahead to the Castlemaine library. And here we are!
I am not as eloquent as Neil Gaiman, but I'd like to say a general thanksgiving for public libraries. This one nurtures my creativity and indulges my curiosity. It's a place for ideas, pleasure, relaxation, culture high and low, diversion, information. A place for a weekly ritual of choosing books, checking them out at the desk and going on my way with a basketful of possiblities. Though apparently we are shortly to have self-serve kiosks in the library. I'm not sure about that. It will change the atmosphere, I think – and add one more bar-coded transaction to our lives. Books aren't groceries!  I will continue to go up to the counter so I can chat to the librarian. For what would libraries be without librarians?
Last year, Dennis Commetti, commentating an AFL match, described a particular player as "…creeping round the boundary like a librarian". I have been longing to use those words, and now I can. He was obviously referring to the fact that librarians are multi-taskers, helpful, considerate, and always in the right spot when they're needed.