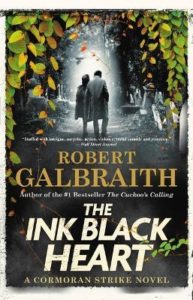 I've missed a couple of instalments, but wasn't suprised to find that Cormoran Strike and Robin Ellacott are continuing their slow-burn courtship. Unresolved sexual tension! While you wouldn't want it to go and and on and on in real life, in books and on screen, it's delicious.
This time, they're investigating the murder of Edie Ledwell, the co-creator of a popular online cartoon, The Ink Black Heart which has also been turned into a popular game by a couple of fans. With the cartoon set to become a movie, Edie finds herself accused of selling out, and she's being trolled by the fandom, led by the anonymous Anomie. Uncovering Anomie's identity is key to solving the case. With a variety of personal issues to deal with, Strike and Ellacot are at times distracted and weary. Galbraith/Rowling does a great job of conveying the tedious slog of surveillance and the high-stakes thrill when the investigators close in on their quarry.
Over a thousand pages! And I read most of them.
I find long books pretty taxing, and will admit that I sort of skip-read the last couple of hundred, especially the online chats between the gamers, which were formatted in columns and a chore to read. But this one kept me going, and the end was satisfying, violent and in hindsight, inevitable. And bravo to JK, for having a go at the keyboard warriors who, under the magic cloak of anonymity, have created such a vicious online battlefield.