2022 was another messy and occasionally downright miserable year on Planet Earth. Russia invaded Ukraine. Covid rumbled on, and despite the end of restrictions, it still does; we just don't seem to talk about it any more. Where it didn't parch or burn, it rained, and rained, and rained. Angry people with conspiratorial bees in their bonnets were everywhere, and especially the internet. And on Sky News, of course. There's more, of course (did I say totalitarian world leaders? Misogyny. Racism. And why can't all the parties just support the Voice? Please?) but it's too much to think about.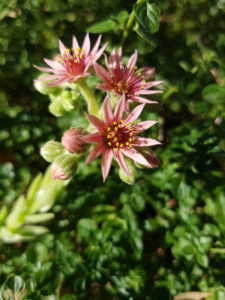 I lost five friends this year. There have been a couple of serious diagnoses. And although everything was minor, my own health was dodgy. Over 40 appointments with GPs, specialists, physios and other health professionals. My balance is now – for my age –  perfect, but my snoring is still perfectly piggy and the memory of 6 weeks of torture with a CPAP machine makes me shudder. The long recovery from an ordinary virus (not covid, not flu) had me feeling so much sympathy for all respiratory sufferers.
Oh, and my old editor passed on Candleshine, my latest children's book.
But…2022 was also occasionally shot through with glints of happiness and even elation. The Federal election! Grace Tame's side-eye! The Victorian election!
The excessive rain made my garden glorious in spring.
Still now in summer, it's the most beautiful it's ever been. My son is well, happy and flourishing. My girlfriends are a joy, especially when we're away at a b&b, and there's fish and chips and after-dinner dancing. Friends had successes and joys – literary prizes, restored health, problems solved, new jobs, houses and grandchildren. There were walks around the gardens, and into the bush. Cups of tea (always, cups of tea).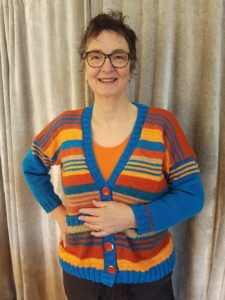 I knitted. I finished a freestyle cardigan (look Mum, no pattern!) and a blanket for my son and his partner, and after so many lock-down separations, finally had the pleasure of seeing them snuggle up underneath it. We watched Only Murders in the Building. I went to the theatre for the first time in years. By October, my husband had retired, and he's got a new lease on life. He's baking his own water crackers! Plus enjoying the multitude (and that is an accurate word) of hobbies, interests and passions that have been on hold for years. We've had our first little trip away and look forward to taking our tent and camping gear for a wander around Victoria and South Australia.
I did a fantastic 4-day online writer's retreat, The Word Cave with Sarah Sentilles. Ideas for more books keep bubbling away in the witch's cauldron, and I will persevere with finding a publisher for Candleshine.
And through this difficult, miserable, happy, contented, disappointing, sad, painful, demanding, frustrating year, reading was – variously, and as needed –  a pleasure, a distraction, a comfort, a revelation, a challenge, a drug, an inspiration, a neccessity.
I didn't keep track in 2022, but I will this year, by the simple expedient of taking a shot of each cover on my phone. Is that genius or not?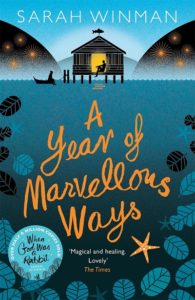 I've already finished one book, a joyful one with a joyful title – A Year of Marvellous Ways by Sarah Winman. I didn't think I was going to like it, and I did. I resisted loving it, and I failed. What a good way to start.
I have 19 books on reserve at the library (pray they don't all come at once!) and look forward to a year of marvellous reading.