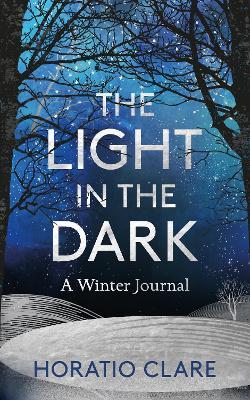 The Light in the Dark: A Winter Journal
Horatio Clare: Elliot and Thompson, London 2018
Sticky goose feathers, tiny hard powder and blurting blown snow, it is a connoisseurs's winter day. The flash and change of the sky is quite extraordinary; in bursts it is spring for ten minutes, with birdsong and buds, then the light yellows, seems to age and harden, and the sliver snow comes again, driving sideways, upwards, in helixes and vortices, dissident tribes of flakes pursuing their own migrations. A buzzard tumbles and rags through twisting winds. There are whitened clouds flying across whitened blue. In the tops of the beech trees jackdaws are actually shivering, their tails trembling in the wind. Sliver light, pewter light now, with trees purpling behind the blizzard.
Horatio Clare's The Light in the Dark is subtitled A Winter Journal because it's winter in more ways than one; as the days become shorter, the author begins to suffer from feelings of heaviness, sadness, hopelessness, despair. He keeps his anxiety and depression to the margins. Very often you wouldn't really know this book of beautifully written observation was also about a mental health crisis, and if I was expecting something like Sarah Wilson's raw and exposing First We Make the Beast Beautiful, I was on the wrong track entirely.  He says that he hasn't written down 'all the rows, the despairs, the heaviness of spirit:  no reader could have enjoyed them.' Instead, through writing, he has found a way to lead himself through a dark time.

This diary has been a lifeline, a place to put the days so none was wasted, a way to see and celebrate winter in all its shadows and lights. At the heart of this winter I have found a double spirit, a flame and a shadow. The shadow is fear; the flame, love.