A favourite book from my childhood was Anthony and Antimacassar by Mary and Rowland Emmett. It was first published in 1943; one of my parents must have bought it. Perhaps when they were in England in the early 1950s. Rowland Emmett was a well-known illustrator and during the Festival of Britain created a bizarre and whimsical fantasy railroad. Trains and railways must have been his thing. Anthony and Antimacassar is about how Anthony, a china pig just sitting, sitting and bored on the mantelshelf  takes off on a wild adventure by train, meeting pirates and highwaymen and strange rogue locomotives.
One of the bedrooms I slept in had a mural (painted by my father) with images taken from this book all around the walls. It was magical. I have a few small b&w photographs but I don't know where they are. I wish we'd pulled the panels off and kept them! I've got most of the books I loved as a small child, but not this one. I think maybe it was my brother's favourite, too – he's got it. I've been looking for it on the internet on second-hand book sites.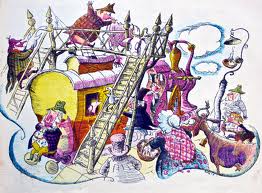 I don't have a lazy 175 pounds to spare, but  perhaps I'll get lucky soon.