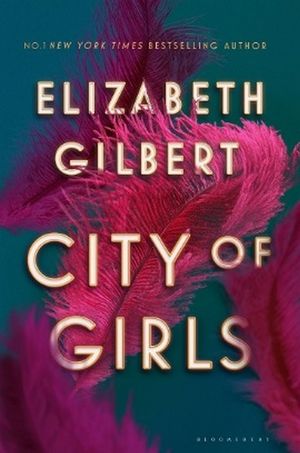 I hadn't really read anything by Elizabeth Gilbert before this novel. Not quite true – I'd flicked through Big Magic, her book on creativity, and not liked it very much. And I was snobbish about Eat, Pray, Love because of the movie, which I didn't like at all.
But I loved reading City of Girls. At first, it seemed like an enjoyable romp – despite its size, a 'light read' – a big, fat, luscious, high-spirited and sensuous coming-of-age novel.
We follow the adventures of 19-year-old Vivian Morris through glamorous, exciting pre-WWII New York.  She's been exiled by her straight-laced family for misbehaviour at her straight-laced women's college. But exile in New York is no exile at all, because she goes to live with her Aunt Peg who owns a run-down theatre, the Lily Playhouse.
With her sewing machine and her genius for dressmaking, Vivian soon becomes an essential part of the ensemble of actors, showgirls, singers and dancers, writers and assorted hangers-on. As a textile-aholic myself, I loved the descriptions of costumes, clothes, fabrics, haberdashery, trimmings. But back to Vivian's education of the body, heart and mind. If she'd been misbehaving before – well, wow. She enters into the louche bohemian life with abandon, stepping out with her showgirl buddy to parties and clubs and shows, entering into a string of sexual liaisons and encounters with no shame and much pleasure. So far so good – a celebration of young womanhood and youth and sexuality and fun. Vivian's scandalous fall, when it comes, is shocking. Shame, judgement – and as other reviewers have pointed out, such very gendered shame and judgement – threaten to overwhelm her life.
But that's not the end. The latter part of the novel, showing Vivian in middle and old age, is sobering and even sad – but to my mind, beautiful.  Vivian's developed from a beautiful  and passionate young girl into this older woman who's suffered and survived and made her life meaningful. She is so very surely her own self. This rounds this story into something more than just a romp. Please note that in the more sombre middle section of the book, Gilbert isn't showing us the "just punishment" for Vivian's sexual experimentation. She's highlighting the difficulties women faced (and still face) in simply being who they are, in particular in expressing sexual desire (and perhaps also ambition) in a society that seems to hate and fear female agency.
I ended the book pondering on the vital importance of work, of friendship and love, of endurance, persistence and courage. And haberdashery.