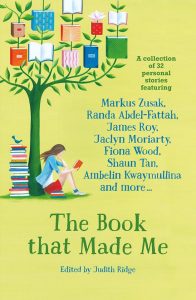 The Book That Made Me, edited by Judith Ridge, is a collection of 32 stories from (mainly Australian) YA and children's writers. The royalties from sales of the book all go to the Indigenous Literacy Foundation.
As Judith Ridge says in the introduction, there's a growing interest in writing, and in writers' lives. (As an aside, I wish there wasn't. My life has never been extraordinary, except inside my own head – no larger-than-life adventures, no dreadful traumas, no exotic locales – and has consisted for years now of a lot of sitting on my bottom in front of a screen, which should not be of great interest to anybody). Thinking about the authors whose work she loved and admired, she began to wonder about their formative reading. Which book made them fall in love, made them understand, made them laugh, made them feel angry or safe or challenged. "Made them readers, made them writers –made them the person they are today? And so I asked them."
32 writers – people like Fiona Wood, Kate Constable, Shaun Tan, Markus Zusak, Simmone Howell, Alison Croggon, Cath Crowley, Simon French, Ursula Dubosarsky – when asked, "What is the book that made you?" give readers much more than a title. The books that made them give an often intimate and moving glimpse into their lives. In nearly every one, I felt a spark of recognition and fellow feeling. Reading and enjoying the various memoirs and essays in the collections made me wonder, of course, what I'd have written if I'd been asked.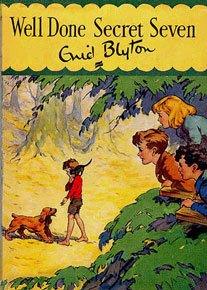 Perhaps I could say the Magic Faraway Tree and Secret Seven series 'made me'; but though they were certainly the books that turned me on to independent reading, they're not the ones that have stayed with me. I hope I'm not being a book snob here – I think of those Blyton books with great affection, and know they provided that important first step.
The book that made me? It's actually a difficult question. A book? The book? I think I will ask myself a slightly different question. Which book has stayed with you? It will have to be plural, as well. Which books, for like many of the writers in this collection I was, as Fiona Wood puts it "addicted to books". Though I was happy and loved at home, with imaginative, understanding parents – an artist father and a frankly 'bookish' teacher mother – life out in the world of school and friends was often challenging, exhausting, incomprehensible and at times simply miserable. I had trouble learning to read, but as soon as I mastered the art – thank you, Enid Blyton! – books were a constant for me, whether delight, diversion, distraction, escape or consolation.
Which books have stayed? I was going to try to keep it at ten, but a dozen is old school which, really, suits me best. These are books that I read and re-read when I was in primary school. They're still on my shelves; they're worn and a bit tatty but they glow for me with a kind of golden aura of use and love.
In no particular order:
The Wolves of Willoughby Chase by Joan Aiken
Little House in the Big Woods by Laura Ingalls Wilder
Mistress Masham's Repose by TH White
The Children of Green Knowe by L M Boston
The Little White Horse by Elizabeth Goudge
Little Women by Louisa Alcott
The Midnight Folk by John Masefield
Anne of Green Gables by L M Montgomery
The Secret Garden and A Little Princess by Frances Hodgson Burnett
Seven Little Australians by Ethel Turner
The Good Master by Kate Seredy

The Book That Made Me ed. Judith Ridge Walker Books Australia $19.95