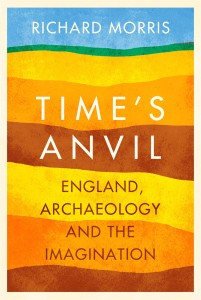 This was another score from The Book Grocer. Also $6.00. Like Holloway, it's a hard cover,  high quality publication from an English imprint (Weidenfeld and Nicholson) – and also right up my alley. While the sub-title does give the reader an idea of  what it's about,  'England, Archaeology and the Imagination' isn't the most inviting description. It even sounds a bit stuffy and potentially dull. Or is that just me? I jumped on this, however, because I'd read a great review of it in 2012 when it first came out.
The author is a distinguished British archaeologist, lecturer at various universities and an OBE for his services to archaeology. This book is a wonderful mash-up of memoir, biography, geography, history and poetry as well as an exploration of the archaeology of England.
Here's an example:
On his very first professional dig, as a member of the team excavating underneath York Minster, Morris helped remove some Roman tiles. Apparently Roman tiles are a dime a dozen. But he took a close look.
The tile bears a stamp: LEG IX HISP – legio IX Hispana, the Ninth (Spanish) Legion. Near the stamp is the paw-mark of a dog that wandered across the tile stack before the tiles were fired. The mason and the dog lived around 1,780 years ago. In these plain traces they are so close. I remember a poem by D.H Lawrence.
Things men have made with wakened hands, and put soft life into
are awake through years with transferred touch, and go on glowing for long years.
And for this reason, some old things are lovely
warm still with the life of forgotten men who made them.
I wonder if there is a book like this about Australia? I'd love to read it.