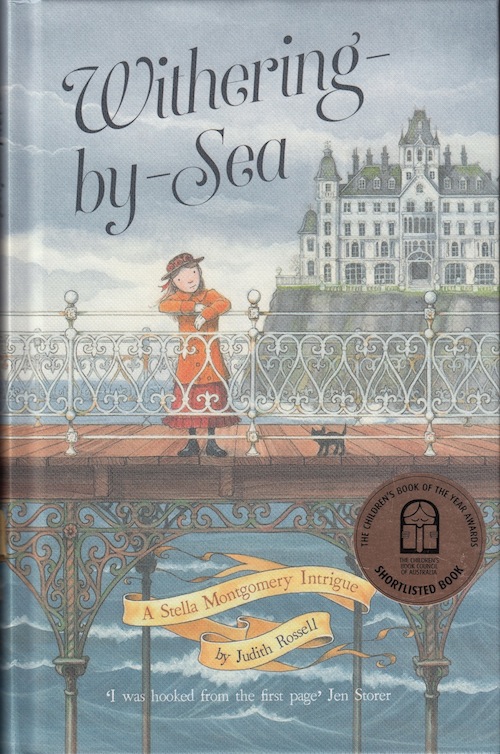 Yesterday I beguiled a train trip to and from Melbourne – a bit less than 3 hours – with Withering -by-Sea: A Stella Montgomery Intrigue by Judith Rossell.

As you can see from the shiny circle on the cover, it's one of the shortlisted titles for this year's CBCA awards.
It's what I'd call 'a romp' and I enjoyed it immensely. And the fact that it fits into Verity Sparks's genre, the Victorian fantasy-adventure or 'gas-lamp mystery' made it all the more enjoyable for me.
Stella Montgomery lives with her three Aunts – Temperance, Deliverance and Condolence –   in the seaside resort of Withering-by-Sea. Their home is the Hotel Majestic, a retreat for elderly hypochondriacs. The aunts firmly believe that children should be seen and not heard, and so Stella's life is dull and rather unhappy. The deadening atmosphere of the hotel and the boredom of life under the aunt's regime is beautifully done. Here's poor Stella studying French Conversation for Young Ladies under her aunt's eagle eye.
Aunt Temperance was sitting, bony and upright, at the window, sewing a pattern of violets in immaculate stitches onto an antimacassar. As usual, while one of her watery eyes was fixed on her work, the other seemed to be roving here and there around the room in a disconcerting manner, like a marble rolling around in an eggcup. She seemed very alert. Stella sighed and put down her book…
The afternoon dragged on. The clock on the mantelpiece ticked, and sometimes a seagull cried as it sailed past the window.
Aunt Temperance said, 'Don't swing your legs like that, child', and twenty minutes later, 'Don't slouch. Sit up straight.'
Stella's only pleasure is to read her beloved – but forbidden –  Atlas. She is hiding in the conservatory looking at a map of the Amazon jungle (and imagining the aunts inside a giant boa constrictor) when a fellow guest, Mr Filbert, sneaks in and hides a package in a potted fern. And so begin Stella's hair-raising adventures…
There's lots of action and cliff-hanging suspense, with a truly wicked villain, evil henchmen, singing cats, a spell-bound orphan boy and a helpful acrobat. Not to mention the mystery of Stella's parentage. Stella herself is a most satisfactory heroine (after reading this book I find I'm talking Victoriana!), being brave, sensible, clever and kind. Verity would approve.
This is a lively, imaginative, dashing book and I was tickled pink with the way author Judith Rossell has such fun with the period details. As I do myself.