Sunday, I've decided, is Blogday. No excuses, just do it. Once  a week is nothing, really: in a recent tour of the blogiverse – looking at young writer's blogs – I see that for some of them it's EVERY DAY. My goodness. But then, it seems that they are perhaps using their blogs as a kind of public warm-up for their other writing.
Which is something I wouldn't want to do. Though I am about to return to a little trick I taught myself during my first stay at Varuna, the lovely Writer's House in the Blue Mountains. I found it very hard to get down to work and so I insisted to myself that I write a practice page before I got stuck in. The practice page could be anything at all – a journal page, a long description of the house and garden, a whinge, a rant, a homesick howl, a poem. Somehow it helped. I really really hope it helps again.
Because I'm feeling rather unsettled, and it's partly to do with the impending launch of Verity Sparks and the Scarlet Hand. I'm so looking forward to it. Buda, the wonderful Historic Home and Garden in Castlemaine – where some of the book is set – is hosting the event. The distinguished writer, editor and essayist Carmel Bird is launching the book. Friends will gather, and we'll all have afternoon tea together. The new Verity, with its beautiful pink peacock-adorned cover, will take flight into the world of readers. It will be lovely.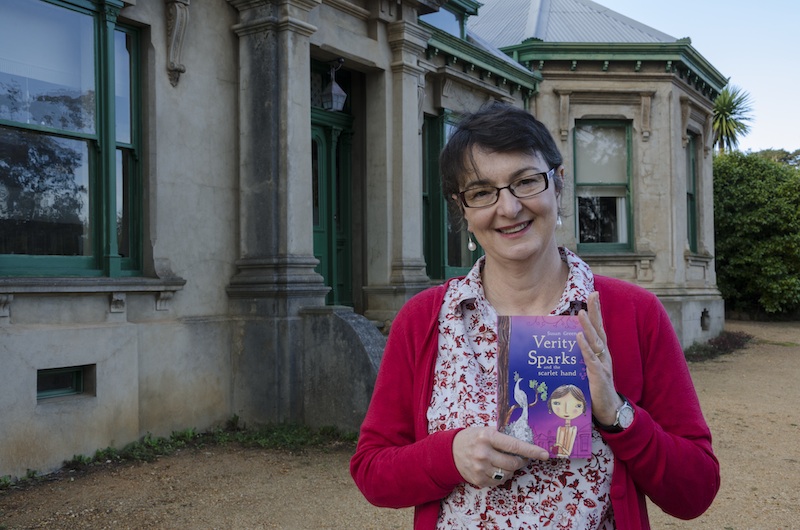 And at the same time, I'm dreading it. I know I'll spend the entire morning feeling like I'm about to vomit. Under the bedsheets, probably, if it's anything like the last launch. What if no-one comes? What if no-one likes my book? What if…
Oh, shut up, Susan! It's sad, isn't it, because so many writers would love to be feeling sick and nervous and unsettled. It's a privilege and – not to downplay my own hard work! – it's partly luck when anything gets published, and more luck when it actually strikes a chord with readers and sells.
Here's a passage from a book I've been reading recently – The Forest for the Trees: An Editor's Advice to Writers by Betsy Lerner.
Before I entered publishing, I believed, like most people, that the life of a writer was to be envied. As one of my heroes, Truman Capote, wrote, "When God hands you a gift, he also hands you a whip." Now I understand that writers are a breed apart, their gifts and their whips inextricably linked. The writer's psychology is by its very nature one of extreme duality. The writer labours in isolation, yet all that intensive, lonely work is in the service of communicating, is an attempt to reach another person. It isn't surprising, then, that many writers are ambivalent, if not altogether neurotic, about bringing their work forward. For in doing so, a writer must face down that which he most fears: rejection. there is no stage of the writing process that doesn't challenge every aspect of a writer's personality. How well writers deal with those challenges can be critical to their survival.
Yes indeed. Anyway, I'm attempting to gee myself up. I say, "Don't worry, it's only a book." My friend Tony says, "Get over yourself, Suze."
Edward Bawden says, "Temperament is for amateurs."And my wonderful husband says, "It's not all about you. It's about Verity."
And so it is.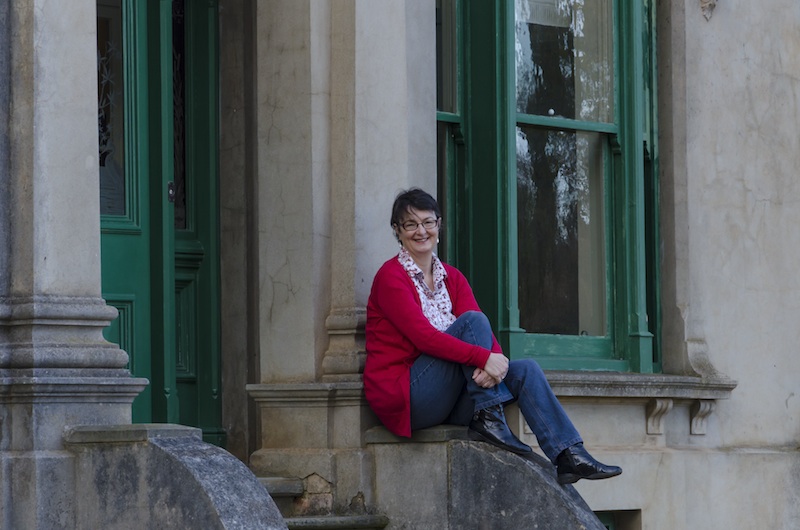 Here's me on the steps of Buda (42 Hunter Street, Castlemaine) where the official launch will be held. It's from 2-4 on Sunday 12th July. After the launch, there'll be afternoon tea and a tour of the house for those who are interested. All welcome!