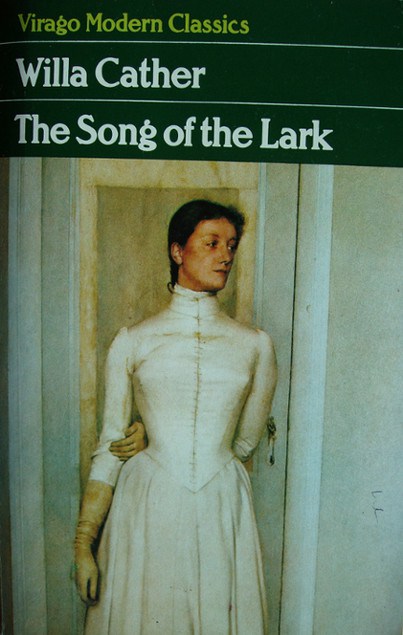 I've just finished The Song of the Lark by Willa Cather. I wish I'd read it when I was a child, along with Little Women and Anne of Green Gables. Because most of it – the most interesting part – like those books, is about a the childhood and young adulthood of a girl with talent.  And unlike Jo March and Anne Shirley (and lot of the other talented young girls in fiction whose stories I loved when I was in my early teens) Thea Kronborg and her gift are taken seriously.
Thea's gift is music; she plays the piano; she sings. More than a gift, it's the core of her being. So music is not something she does, it's something she is. Her first teacher, the alcoholic failed old German Wunsch, ponders.
What was it about the child that one believed in? Was it her dogged industry, so unusual in this free-and-easy country? Was it her imagination? More likely it was because she had both imagination and a stubborn will, curiously balancing and interpenetrating each other. There was something unconscious and unawakened about her, that tempted curiosity. She had a kind of seriousness that he had not met with in a pupil before. She hated difficult things, and yet she could never pass one by. They seemed to challenge her; she had no peace until she mastered them. She had the power to make a great effort, to lift a weight heavier than herself. Wunsch hoped he would always remember her as she stood by the track, looking up at him; her broad eager face, so fair in color, with its high cheek bones, yellow eyebrows and greenish-hazel eyes. It was a face full of light and energy, of the unquestioning hopefulness of first youth. Yes, she was a flower full of sun, but not the soft German flowers of his childhood. He had it now, the comparison he had absently reached for before: she was like the yellow prickly pear blossoms that open there in the desert: thornier and sturdier than the maiden flowers he remembered; not so sweet, but wonderful.
At the end of the book, she is a famous opera singer. Her story isn't romantic; there's no overnight success. It's work – sometimes joyful, sometimes slog and struggle. Through her childhood in the harsh and beautiful mining Colorado mining town of Moonstone and her unhappy, lonely student years in Chicago Thea works, works, works at her music. It's like oxygen or food. She can't not.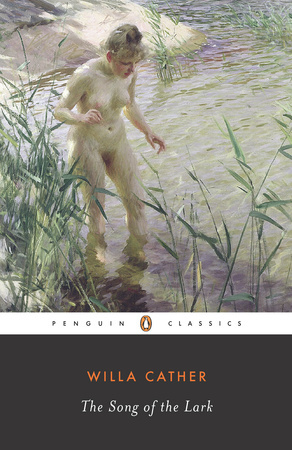 She's lucky, too. There are people around her who see the intensity of her desire.
She is talking to her second teacher, Sandor Harsanyi.
"…what you want more than anything else in the world is to be an artist; is that true?"
She turned her face away from him and looked down at the keyboard. Her answer came in a thickened voice. "Yes, I suppose so."
"When did you first feel that you wanted to be an artist?"
"I don't know. There was always – something."
"Did you never think that you were going to sing?"
"Yes."
"How long ago was that?"
"Always, until I came to you. It was you who made me want to play the piano." Her voice trembled. "Before, I tried to think I did, but I was pretending."
Harsanyi reached out and caught the hand that was hanging at her side. He pressed it as if to give her something. "Can't you see, my dear girl, that was only because I happened to be the first artist you have ever known? If I had been a trombone player, it would have been the same; you would have wanted to play trombone. But all the while you have been working with such good-will, something has been struggling against me … (He tapped the piano) … your gift, and the woman you were meant to be. When you find your way to that gift and to that woman, you will be at peace. In the beginning it was an artist that you wanted to be; well, you may be an artist, always."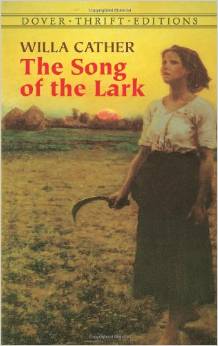 Willa Cather was a literary writer. She won the Pulitzer Prize, for goodness sake! and so perhaps she'd have been insulted to be grouped with Louisa May Alcott or L.M. Montgomery. Grouped only in "Subject Matter – Talented Girls." For, as I said, Cather takes Thea seriously. She allows her to to become the artist she was meant to be  – and to succeed.
I've been reading:
Goodbye Sweetheart by Marion Halligan
The FitzOsbornes in Exile by Michelle Cooper