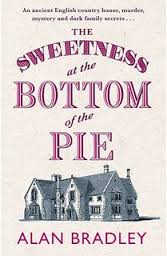 My new favourite heroine is Flavia de Luce.
I was me. I was Flavia. And I loved myself, even if no-one else did.
"All hail Flavia! Flavia forever!" I shouted…
I detected instantly that she didn't like me. It's a fact of life that a girl can tell in a flash if another girl likes her… With a boy you never know whether he's smitten or gagging, but with a girl you can tell in the first three seconds. Between girls there is a silent and unending flow of invisible signals, like the high frequency wireless messages between the shore and the ships at sea…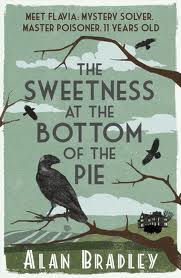 Seed biscuits and milk! I hated Mrs Mullet's seed biscuits the way St Paul hated sin. Perhaps even more so. I wanted to clamber up onto the table and, with a sausage on the end of a fork as my sceptre, shout in my best Laurence Olivier voice, "Will no one rid us of this turbulent pastry?"
Some suggestions by various critics. 'A cross between Dodie Smith's I Capture the Castle… and the Addams family.' Or 'a dark Nancy Drew set in gothic Midsomer.' I can detect hints of Mistress Masham's Repose as well.