I'm starting to get excited about The Truth About Verity Sparks. Its release date is the 1st of August – and that's soon. I'm going to have a book launch at Stoneman's Bookroom, where I work, I've sent offers of 'author talks' to the local schools, I'm printing images of the cover to use as posters…and hoping like mad that my precious book gets bought and read and enjoyed by heaps of children.
Here's an article that I wrote for the blog of my friend Simmone Howell, YA author of Notes from the Teenage Underground and Something Beautiful. (By the way, her blog is at postteentrauma.blogspot.com and her website is www.simmonehowell.com.) She asked a number of writers to talk about The Anatomy of a Novel – the elements that make a particular book or story. Here's what I wrote.
The elements that make up the start of a story for me are (in no particular order)
(1) Names. In the cemetery in Angaston in South Australia, there stands a gravestone surrounded by dry grass and rusty wrought iron railings, and the name on the stone slab is:
SADDINGTON PLUSH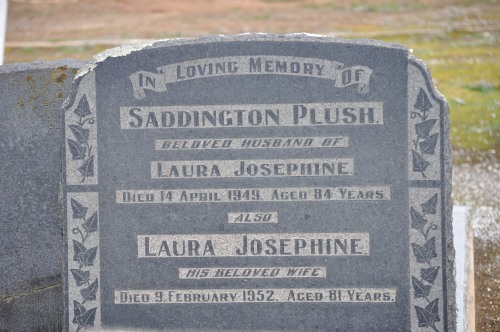 Isn't that a great name? Almost instantly I could see him; a young man circa 1878 who was unconventional, slightly bohemian, a bit of a dandy, with a weakness for checked trousers, false moustaches and fiddly documentation, who was braver than he thought he was, with an adorable smile. I fell in love with Saddington, and tucked him away in my memory for future use. (I found Sideney Dumayne in the Maldon Cemetery, and I plan to use her sometime soon, as well). So when I began dreaming up this book, Saddington Plush was just right for both father and son; Confidential Enquiry Agents, bibliophiles, herpetologists and collectors of long, obscure words.
The character but not the name of my heroine came to me as I was walking past one of East Melbourne's Victorian Gothic churches. On a board outside, the service times were displayed. Evensong was at five thirty. And from that I spun a little baby abandoned on the steps of a church, found by a kind old couple  who were walking past, and named Evensong. Evensong Levine, for they weren't C of E, they were Jewish old-clothes merchants in Victorian London…
I could see, inside my head, that little baby grown into a young girl, alone and dwarfed by great grey buildings of a huge metropolis. She kept nagging at me to write her story, but when I got started, Evensong was the wrong name. Too drifty and romantic for this story (but tucked away for future use, too). My foundling had to be active, plucky, straightforward  and very honest. Verity, which means truthfulness, sounded just right. The dear old Jewish couple had to be shelved also, for I needed Verity to be orphaned in order to have adventures, and I just didn't want to kill dear Mr and Mrs Levine. I wanted an ordinary surname, and what could be more ordinary than Jones? A Mr and Mrs Jones, I decided, could be disposed of. So, Saddington Plush, Senior and Junior, and Verity Jones. I was all set.
(2) Title. At first, I had From the Casebooks of Saddington Plush above the title, and I started the book with a letter from him, saying that he'd taken down the story verbatim from the inimitable Miss Verity Jones.
The book's title all the way until the final draft was Verity Jones and the Sign of the Seventh. I was revising it at Varuna when I realised that it was a rotten title. Too much like Harry Potter and the..(take your pick). Not to mention Indiana Jones and the Temple of Doom and even Bridget Jones Diary.
Each bedroom at Varuna contains part of Eleanor Dark's book collection; my room had the British books. While I was revising (and pondering my dud title) I started reading Memento Mori (a great and very weird novel) by Muriel Spark. Suddenly I had my name. Spark. A name that was sparky and sparkling; that made you think of sparklers and bright sparks, and even, as the Bible says, that man is born to trouble as sparks fly upwards… I decided on more than just one spark for my girl. She was Verity Sparks.
Verity spends most of the novel trying to find the truth about herself. Who are her parents? Why did they leave her? Why did her adoptive mother leave her a ring and a medallion? Why is someone stalking her? I don't think I am very good at titles, but when this one came to me, I knew it was just right. The Truth About Verity Sparks.
(3) An Idea. The Truth About Verity Sparks is a historical-detective-murder mystery-melodrama romp. It's for younger young adults, and is completely without any teen angst, sexual yearnings or fumblings, or vampires. But it has a supernatural element. Ghost Hunters: The Victorians and the Hunt for Proof of Life After Death by Deborah Blum was the book that located Verity's adventures amongst the late Victorian craze for spiritualism. I made Verity a rather reluctant psychic. She can find lost objects, and her fingers itch when she's getting close. And that led to another absolute neccesity for me – a first line. It's the hook to hang everything else on.
(4) First Line. My name is Verity Sparks, and I've got itchy fingers…
(5) Things to Look At. Finally, I find it really helps to have things to look at. I used Gustave Dore'
s engravings of London low-life (here) and James Tissot's paintings (above) of fashionable high life to help me describe places and people. I even incorporated the picnic in the garden and the real-life French painter James Tissot and his tragic de facto wife Kathleen into my story.