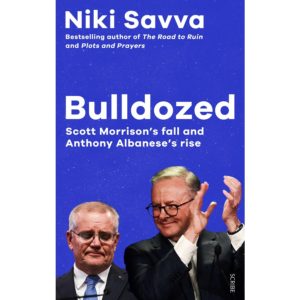 I guess you would call me a 'progressive' or 'liberal' voter, so I felt a surge of joy when the results of the last federal election were announced. I was elated, not because Anthony Albanese is some kind of visionary saviour – I confidently expect Labor to stuff up – but because the Liberals under Scott Morrison were just so awful. Cruel. Stupid. Smug. The First Dog on the Moon wrote, "Good riddance you jabbering ghouls. History will remember you as the worst of us."
Widely published political commentator and award-winning author Niki Savva is a conservative – indeed, a former staffer to John Howard and Peter Costello – and so I imagine that makes her views on the current state of the Liberal Party all the more acute. And she does not hide her loathing for Scott Morrison. So we're on the same page there, which makes Bulldozed: Scott Morrison's fall and Anthony Albanese's rise irresistible. I haven't read the other books in her political trilogy, but they are now on order from the library. So I am going to be reading backwards –  about the hideous, embarrassing Abbott rule (The Road to Ruin: How Tony Abbott and Peta Credlin destroyed their own government) and the disappointing Turnbull years (Plots and Prayers: Malcolm Turnbull's demise and Scott Morrison's ascension).
But first, Morrison. Savva starts with the election that should have turfed the Liberals out – the "Morrison miracle". I remember spending election night in disbelief. The only thing to be glad about was that Peter Dutton wasn't leader.
But according to Savva, even loyalists Peter Dutton and Josh Frydenberg knew that Morrison was "…a deeply flawed personality, a duplicitous, damaged leader with limited horizons and appalling judgement even they were not certain they could trust, who rarely understood what Australians expected of a prime minister."
She goes on: "Morrison used, played and deceived them, as he had so many others, in ways that were both obvious and beyond even their imaginings. He left them with a pile of rubble, feeling wounded and betrayed… He was petty and vindictive. Few dared challenge him, worried that if they did they would bring the show down. Their reluctance ruined them, and left the Liberal Party in its sorriest state since it was founded by Robert Menzies in 1944."
I loved this book. I gobbled it up like a box of chocolates, unable to stop because all the pleasure centres of my brain were buzzing, humming and zinging. Yes, yes, yes!
This excoriating account of Scotty from Marketing's political demise is a thing of joy and beauty. And The First Dog on the Moon is fantastic, too.