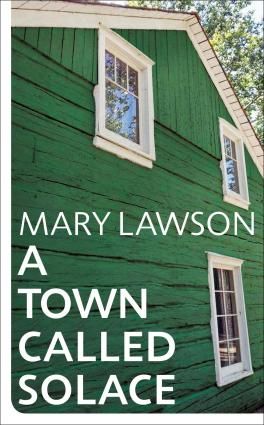 My second holiday book, read in a day and an evening.
A Town Called Solace is set in a small town in rural Northern Ontario during the 1970s. It opens with seven-year-old Clara keeping a vigil at the living room window.  All day. The only time she willingly leaves her post is to go next door, to feed her neighbour's cat.
She's watching and waiting for her older sister, rebellious teenager Rose, to return. Rose has run away before, but this time, it's different. The police, local and provincial, are involved. There are articles in the papers. But her parents, trying to protect Clara from their terrifying and realistic fear that she has harmed or even killed, won't tell her the truth about Rose.
Or about their elderly neighbour and Clara's good friend Mrs Orchard. Clara believes she's looking after Moses the cat until Mrs Orchard, who's in hospital, recovers and returns home. But Elizabeth Orchard is already dead.
She's given her house and willed her estate to a man called Liam Kane, who she briefly cared for when he was a child. Liam is newly divorced, has quit his unsatisfying career in accountancy, and is at one of those junctures in life when everything's in flux. Cleaning up and selling the house will occupy his time, so he travels to Solace and moves in.  Clara is outraged.
That's the setup. Told through the eyes of three characters – Clara, Liam and Elizabeth – A Town Called Solace takes the elements of a humdrum domestic drama and spins it into a moving, profound and deeply involving novel. Longlisted for the 2021 Booker, no less. Past and present loop backwards and forwards for the dying Elizabeth Orchard, and as the novel ends the mystery of her connection with Liam is solved. As Liam tries to solve his own mystery – the failure of his marriage, his discomfort with emotions –  his initially tentative connection with the Solace community blossom into real relationships.  I thought it was in her depiction of Clara that Lawson's perception shone. Clara, increasingly desperate in her attempts to reconcile her child's understanding with the mystifying adult world, adopts increasingly extreme measures in order to keep fear and anxiety at bay. And Lawson treats Clara's struggles with personal honour – keeping secrets, keeping promises – with a beautiful seriousness.
As an exploration of love, both familial and romantic, A Town Called Solace complements and contrasts with my other great holiday read, Sarah Winman's Still Life. That book was rambling and rambunctious, with larger than life characters, a dazzlingly beautiful setting and writing that oozed with wit and wordplay and style. A Town Called Solace is a quiet book. Constrained by its characters 'ordinariness' and the rural setting, with no stylistic bells, whistles and fireworks, Lawson's writing has so much precision and clarity that I barely noticed it. Of its kind, perfection, like looking through clear water to the bottom of a lake.
Both novels were loaned to me by my dear friend and partner in crime Kirsty, who told me I'd love them. I did. So a shout out to your very fine taste in books, KK.