Late autumn, harvest-time, and semi-trailers loaded with hay constantly roared past. The recent rain meant that paddocks looked dry but not drought-stricken; sheep and cattle grazed; majestic river red gums – emblematic of the Western District –  stood surrounded by their 'widow-maker' dropped limbs; and grand houses, far from the road, could be glimpsed here and there through trees or down long drives.

We arrived, settled in. Before long I was relaxing on the veranda of our cottage, looking at the pictures and reading this beautiful book.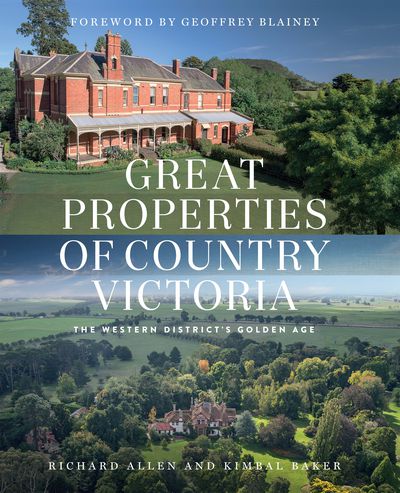 The Western District of Victoria. Even the name conjures up establishment families, history and grandeur. This area…has some of the most productive land in Australia and some of its most renowned homesteads and gardens…
Through their early histories we follow their fortunes and see the splendour of these great homes.
It is a tribute to the past, when fortunes built elaborate mansions and grand gardens, and to the present owners who have so lovingly preserved their properties' architectural heritage.
That's from the blurb of Great Properties of Country Victoria: The Western District's Golden Age by Richard Allen and Kimbal Baker The Miegunyah Press 2015.
I was leafing through the beautifully illustrated pages, full of smothered envy for the lawns, the old trees, the gravelled drives and stone walls and towers and return verandahs… And suddenly, I realised. Damn. Shit. Double damn. I can't enjoy this book in good conscience. Because? Because Aboriginal people. This is not me saying, how good am I. How woke, how virtuous. Because I'm not, I'm saying damn! I really wanted to enjoy this!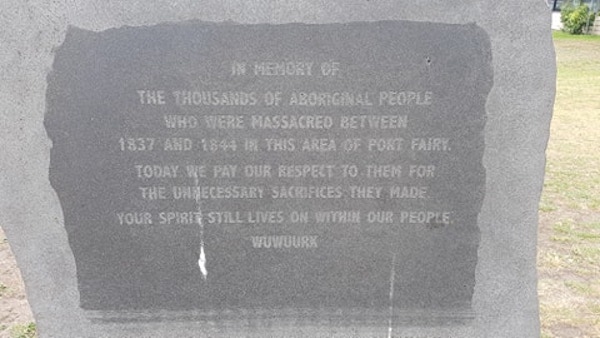 Great properties? Yes, but whose? The fact is – and it's one I can't any longer escape – that the beautiful gardens and stunning architectural heritage displayed in this book can only exist because of the dispossession of the local Aboriginal people. Dispossession? A sanitized word for violence, up to and including massacre. It's the untold story of these architecturally significant mansions and the pastoralists who commissioned them. I'm surprised that a book so recent has no mention of those who were there first.
And as if to impress the lesson of history, when we went for a walk that evening, right near the Port Fairy Tourist Information Centre, the site of the old railway station, is the memorial stone pictured above.
Which brings me to another book. I read Inheritance by Carole Wilkinson earlier in the year, around the time that I read Bruce Pascoe's Dark Emu. I had no intention of thematic reading, so it was just chance, but they seemed to fit together.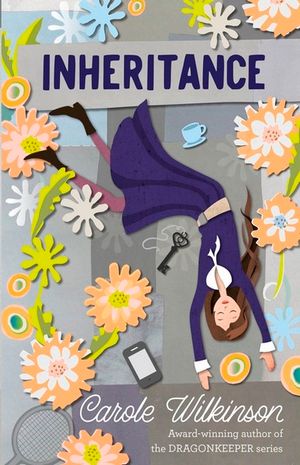 Carole Wilkinson, author of the award-winning Dragonkeeper series, has written a thought-provoking novel about Australia's shameful hidden history.
Nic finds herself living with her grumpy old grandfather at the family home, Yaratgil, when her musician father goes on tour.  Her mother, Veronica, died when she was born and there are no other friends or relatives who can take her in. Yaratgil was once a magnificent Western District property, with a huge homestead and extensive gardens. Now, it's run down and falling into disrepair.
Isolated and bored, Nic begins to explore. She finds a strange locked room. Inside it, she discovers some mysterious stones. Which have magical properties…
There are multiple meanings attached to the title, Inheritance, and one of them is that through the stones, Nic finds she has the ability to go back into the past. This gift runs in her family through the female line.  Inheritance also refers to what she finds in the past; her family's involvement in the massacre of the local Aboriginal people.
I enjoyed Inheritance and applaud Carole Wilkinson for dealing with this confronting subject matter without lecturing. The elements of fantasy (the mysterious, plant-filled locked room, the stones, the time-travelling women in the family) and realism (Nic's boredom and isolation at Yaratgil and at school,  her tentative friendship with local boy Thor, the conservative small town atmosphere) meld together well. My only reservation is the fluffy cover. It just doesn't seem to do justice to what's inside.
The drive home, back through the beautiful Western District again, took us through Lake Bolac, where some of my forebears farmed in the 1840s and 50s, before the gold rushes. My mother once told me a family story. An orphaned boy from somewhere (I'm not sure where) in my family tree was sent from Warrnambool to Lake Bolac to work as a shepherd and station hand. The local Aboriginal people had been spearing sheep and there'd been reprisals. The boy had retired for the day with the other men in a stone hut when there was some kind of an attack.  The men fired their guns out into the night until there was no more movement, and in the morning there were nine or ten bodies on the ground. So – though there's no mansion or acres of gardens – this story is a part of my inheritance, too.