The lead up to Christmas and the year's end has been, as usual, shatteringly busy and stressful. It was not just retail madness and extra shifts at the Bookroom; our son headed to Istanbul just as news of the soccer match bombings hit us; he left just before the assassination of the Russian ambassador. When he popped into the shop on Christmas Eve, I had a bit of a cry over the wrapping paper.
So comfort reading has been in order.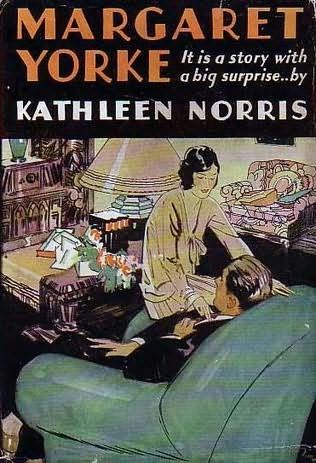 In quick succession I've read three books by my favourite 'Forgotten Bestseller of Yesteryear', an American author called Kathleen Norris. Three because that's all I have. However, I've looked online and there are (literally) dozens available so I'm hitting Abebooks in the New Year and can finally give Margaret Yorke, The Seagull and Storm House a break.
I'm not going to try to make a case for these novels as great, undiscovered literature. I just enjoy them. I think they're well-written – whatever that might mean to you, it means to me that she knew her craft. The plots move along. The people can surprise you. She understood girls and young women and children.  Her descriptions of the natural world, in particular the coast (she was a native Californian and lived much of her life in San Fransisco) make me think she must have spent hours observing; they seem to ring true. So do her dreary hot little country towns, her frugal boarding-houses, her offices and department stores, no less than her homes of the rich and leisured.
'Women's fiction'* rather than straight romance, they deal with love, marriage and motherhood, with emotional and sexual inexperience and incompatibility (though anything sexual is written in coded language, it's not hard to figure out) with infatuation, disenchantment, adultery, divorce. And clothes, hats, food, furniture, gardens, restaurants, waves, rock pools, eucalyptus trees, Mexican cooking, the little shaded lamps at each table in a plush tea-room, the bunch of violets on a woman's breast, live turtles in a shop in Chinatown… All this elaboration of detail is, perhaps, why I find these books so restful. It's like being sensuously immersed in a faraway world.
The tide was making fast: the rough, steady tide of a late October afternoon. It was brimming the pools, churning in a lather of impatient water between the rocks, lifting the satiny sea grasses in loose waving masses of purple and emerald ribbons.
There had been no sun all day, and a hard, high wind was driving in from the veiled Pacific. The air was warm, wet, heavy with salt and rain. Gulls, blown sidewise on the wild airs, peeped and careened above the brimming, roaring swift-running waves…
Kathleen Norris, born in 1880, is probably almost completely forgotten today. But she was one of the most widely read and highest paid female authors in the US in the years 1911 to 1959 – perhaps the Nora Roberts or Jodi Picoult of her day. She was a newspaper columnist and short story writer as well as a novelist, with an amazing 93 novels published in her lifetime. Her New York Times obituary described her as a 'militant feminist'; she was active in the women's suffrage movement and campaigned for Prohibition, pacifism, nuclear disarmament and on behalf of charities supporting women and children. When only in her teens she became the breadwinner for her family,working in department stores, offices and a library. After she married, and her books became successful, her husband took over the household so she could write. She died in 1966.
*'…it is obvious that the values of women differ very often from the values which have been made by the other sex; naturally this is so. Yet it is the masculine values that prevail. Peaking crudely, football and sport are 'important'; the worship of fashion, the buying of clothes, 'trivial'. And these values are inevitably transferred from life to fiction. This is an important book the critic assumes, because it deals with war. This is an insignificant book because it deals with the feelings of women in a drawing room. A scene in a battlefield is more important than a scene in a shop – everywhere and much more subtly the difference of value persists.' from A Room of One's Own by Virginia Woolf