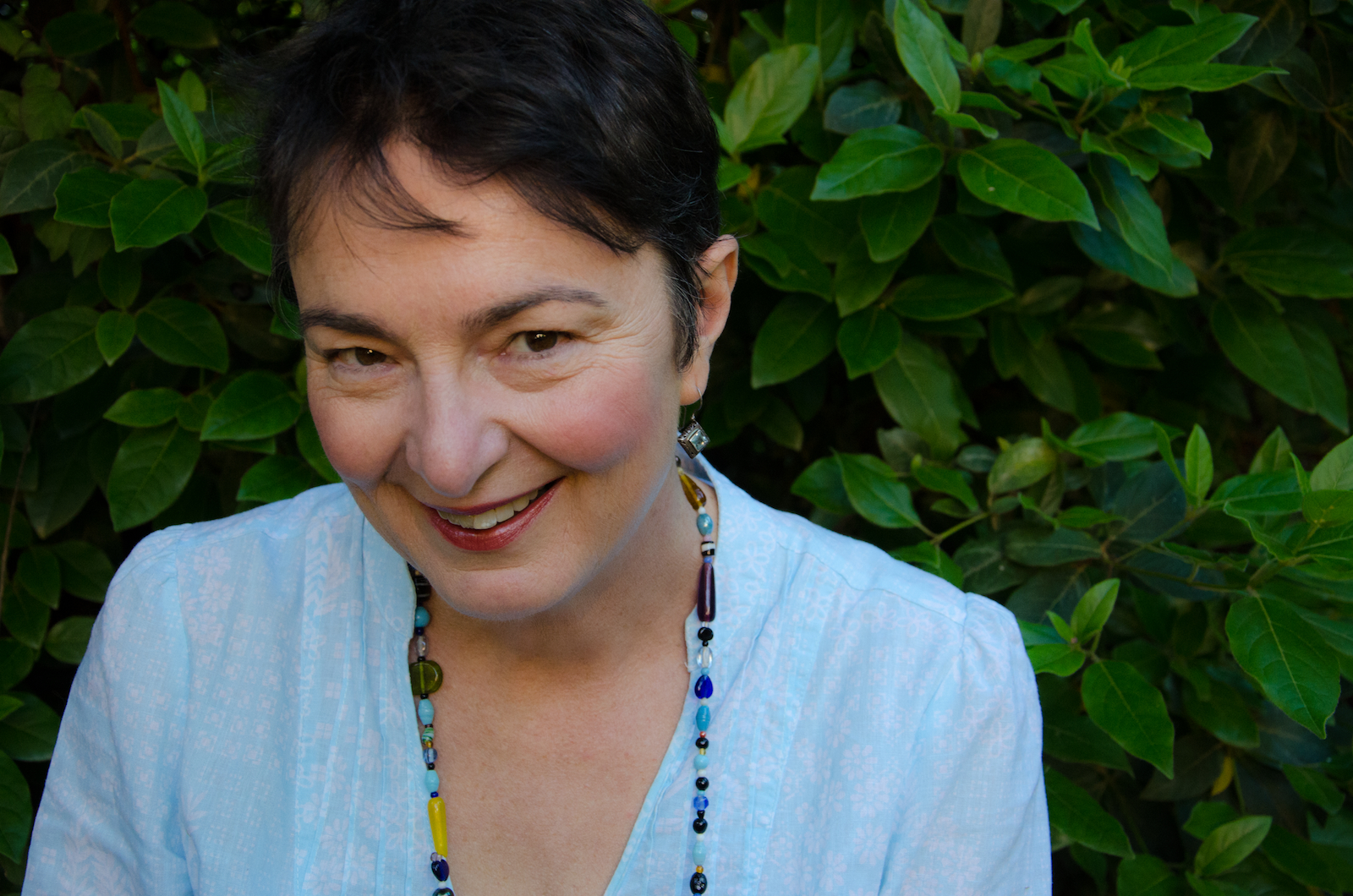 Hi there! If you enjoyed the Verity Sparks books, you might like to know a little bit about the writer. So here goes…
My name is Susan Green, and I've wanted to be a writer ever since I was 7 years old. That was when I wrote my very first story. And I've been writing ever since. I wrote poetry and short stories for adults and I even won a couple of short story prizes, but I always wanted to write children's books, too. I just didn't have a clue how to get published, and the pile of manuscripts just kept getting bigger.
Back then – in the late 1980s – there was no Internet for finding out the latest industry news or updates on competitions, prizes, grants and publishing opportunities. No professional writing and editing courses, either, to help starry-eyed creative types get business-like and practical. I worked hard at my writing, and I always tell people that work is more important than inspiration. But luck can also be part of a writing career.
It was lucky that I didn't have my glasses on when I struggled on to a very crowded Bendigo train. I couldn't see a seat. I couldn't really see anything but a blur of passengers, but a nice man tugged my jacket, smiled and patted the seat next to him. We got chatting; he introduced me to his wife; it turned out they lived in Castlemaine, too, and they'd just been to Melbourne to visit their editor at Greenhouse Publications. Their names were Dale Butler and Liz Caffin, and their first book was just about to be released.
"What kind of book?"
"Children's picture story book."
'That's what I want to do!"
And very kindly, the pair of them offered to talk to their editor about me.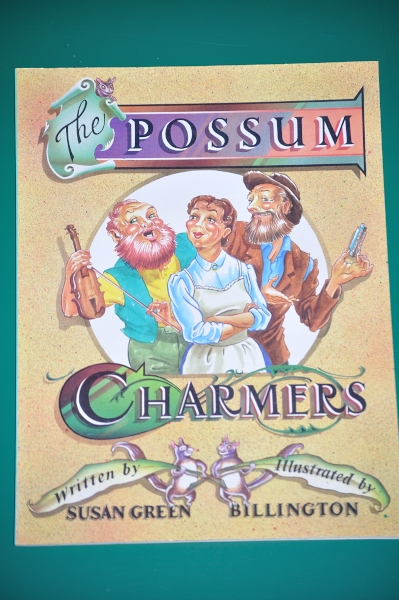 It took a few weeks for me to get up the courage to ring, but when I did, she asked why had I taken so long to call? I made an appointment to see her at Greenhouse's Richmond office; she liked one of my stories; she also liked the folio of illustrations from graphic artist Stuart Billington; and not long after that, my first book The Possum Charmers, was published.
After that, I did another picture story book with Stuart – The Great Detective and the Case of Captain Blunderbuss's Secret – and then five teenage romances in a row.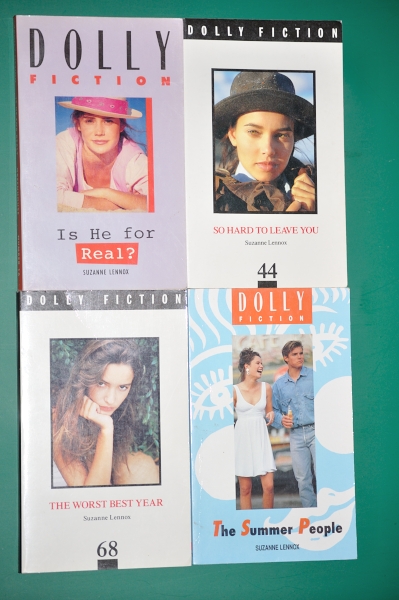 The first four were for the Dolly Fiction series (Is He For Real?, The Worst Best Year, So Hard to Leave You, The Summer People) and the last one, Runaway Girl, which came out in 1993, was for Pan Macmillan.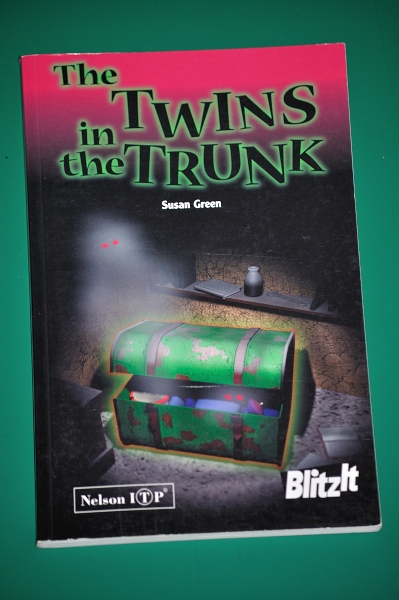 In 1996 came The Twins in the Trunk, a junior novel – and a baby. In fact, the baby came early, so I had to finish my book with a newborn in one arm and typing one-handed.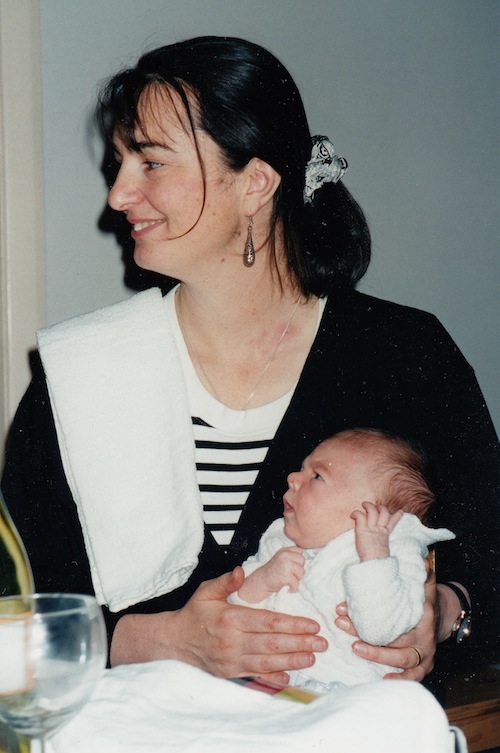 After a break, in which I completed a Graduate Diploma in Children's Literature, my only non-fiction book so far was published. It's part of the It's True! series, and it's called Fashion Can Be Fatal.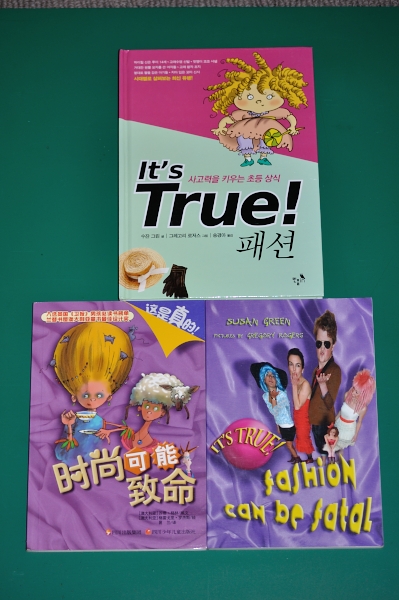 It was translated into Chinese and Korean.
Then…
Good luck, again. My unfinished manuscript for a children's novel (at that stage, it was called Verity Jones and the Sign of the Seventh) was awarded a Varuna Fellowship. That meant 3 weeks writing at a wonderful house called Varuna in the Blue Mountains of NSW. It also meant starting to take the book seriously. Maybe I could find a publisher? On the strength of that experience, I got myself a agent and eventually Walker Books accepted The Truth About Verity Sparks (much better title, eh?) for publication.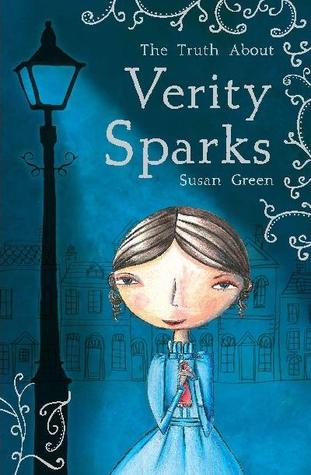 To my great surprise, it was an Honour Book in the CBC's Junior Book of the Year awards for 2012.
The picture  shows me with Minister for Employment Participation and Minister for Childcare, the Hon Kate Ellis MP (I looked her up on the internet to get all that correct!) at the presentation  ceremony in Adelaide.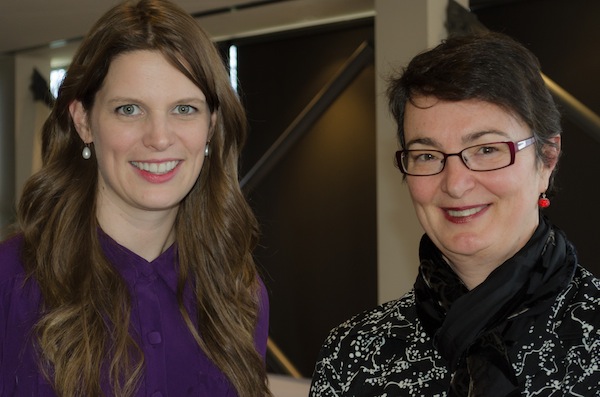 The second Verity Sparks book was released on May 1st 2013. It's called Verity Sparks Lost and Found, and it's also published by Walker Books.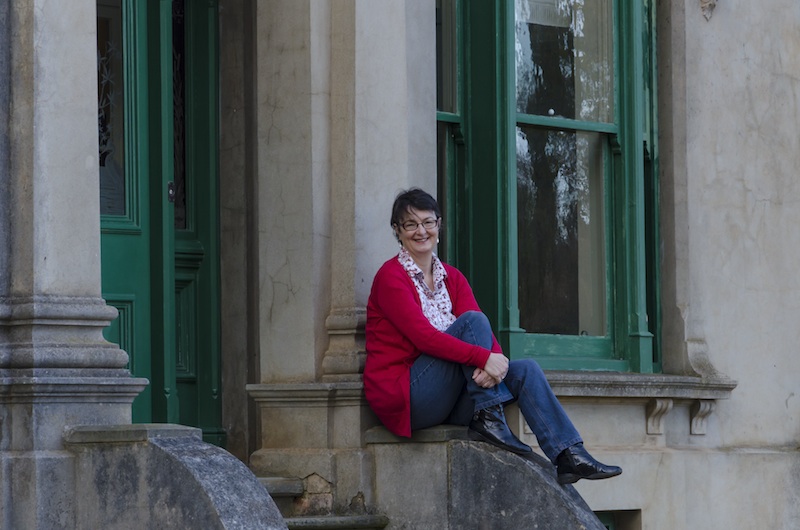 A third book, Verity Sparks and the Scarlet Hand, was published in August 2015. In it, I achieved my ambition of bringing Verity to my historic Victorian goldfields hometown of Castlemaine. The photograph shows me outside Buda, home of gold- and silver-smith and entrepreneur Ernest Leviny and family. I enjoy mixing fact in with my fiction, and I've used the Leviny family in the book.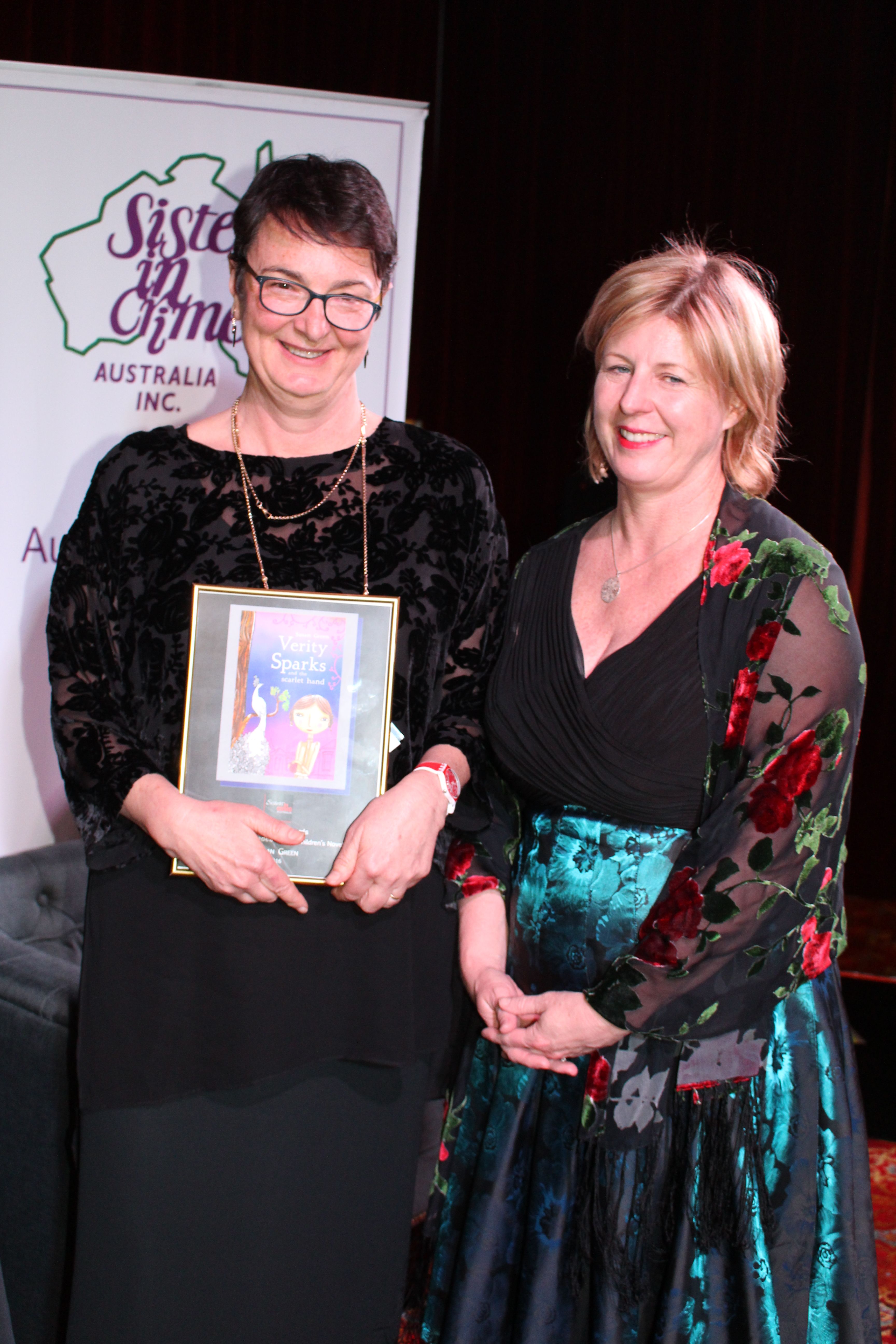 Verity Sparks and the Scarlet Hand was honoured in the Sisters in Crime Davitt Awards of 2016, with a Highly Commended in the junior section. Totally fabulous and famous author Liane Moriarty presented me with my award, which was a big fan girl moment.
My most recent book, published in 2017, is How Bright Are All Things Here, my first novel for adults.
That's about it! A few personal details… I grew up by the beach, in the bayside suburb of Chelsea, near Melbourne, but I've lived in lovely Castlemaine for over 30 years. My husband and I have one son, who's all grown up and left home now. Apart from writing, I work part-time in a bookshop, Stonemans Bookroom. This is me at the counter, with my latest novel.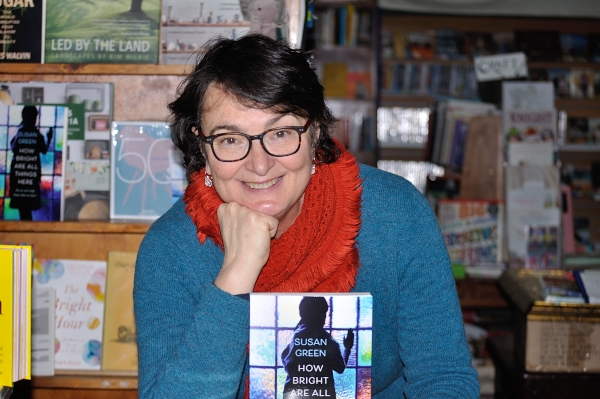 I've had a number of different jobs over the years – teacher, cook, trainee radio producer, creative writing tutor, education officer – but I've been at the Bookroom for over 20 years now. It's the perfect job for a writer!
Hobbies, interests?
I like knitting, gardening, walking with my mini schnauzer Gus, drawing and printmaking – and reading. Of course.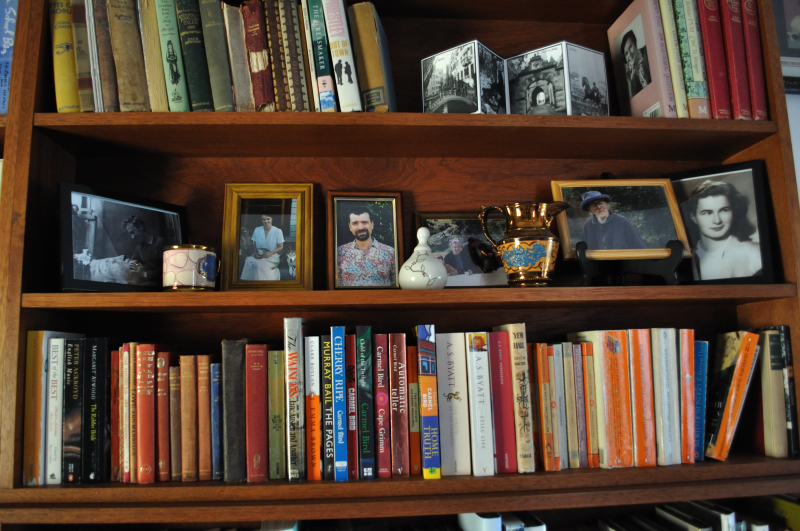 For more detailed information on the Verity Sparks novels, take a look at the About Verity Sparks page.